Audience loves Drama Club's most recent production
From Thursday, Feb. 21 to Saturday, Feb. 23, the Hinsdale Drama Club performed the play  "Love/Sick," directed by Mr. Chris Kostro, English teacher. "Love/Sick" was a comedic show composed of nine different vignettes of love stories, each portraying a problem in romantic relationships.
"'Love/Sick' explores love, however, these stories trace the sometimes tragic, sometimes lonely, and sometimes empty side of love. The show is still a comedy, but it is definitely a black comedy," Kostro said in the director's note.
The first vignette, "Obsessive Impulsive," consisted of two strangers (Hannah Kiperman, senior, and Sean McCleary, senior) shopping at the superstore. The two fall in love at first sight and the audience soon find that the two have Obsessive Impulsive Disorder, which explains how overly affectionate the two are. At the end of this love story, the two decide to part ways as they are too mentally unstable to begin a relationship and they claim that what they feel isn't actually the love.
Congratulations to @hinsdaledrama cast, crew & Director! What a great show! Don't miss it! @RedDevilSpirit @ThisIsHCHS pic.twitter.com/DANZ9gVQrs

— HCActivities (@HCHSActivities) February 22, 2019
The next vignette, "The Singing Telegram," opens with an overly enthusiastic young woman, Louise Overbee (Emma Linana, sophomore), getting ready for a date with her boyfriend. When she goes to open the door, she finds a singing telegram woman (Stephanie Keck, senior) standing at the doorway instead of her boyfriend. The singing telegram man seems hesitant to sing his song, making excuses as to why he couldn't sing the message. After Overbee insists to hear the telegram, she is soon heartbroken as she finds her boyfriend sent the telegram to break up with her. The scene ends with the lights dimming on Overbee's heartbroken state.
The third vignette, "What?!," stars an insistent boyfriend, Ben (Simone Tallentire, freshman), showing up at his girlfriend's doorstep because he feels their relationship is moving too slowly. After proclaiming his love for her, Ben realizes that his girlfriend, Andy (Noela Musil, sophomore), physically cannot hear him. The audience soon finds that Andy has a disorder that causes her to lose a physical function when she is high-stress situations. After Andy tries to push Ben away because of her condition, Ben fights back and claims that they'll take small steps and the scene ends with the two walking away, hand in hand.
The fourth vignette, "The Answer," depicts a nervous groom, Keith (Harry Priester, senior), sitting in a bathroom before his wedding with cold feet. When his bride, Celia (Ellie Mather, junior), comes into the bathroom, Keith insists they make blindfolds out of toilet paper to prevent bad luck. Keith expresses his nervousness about how the two might split up, but he soon realizes that he never answered Celia when she asked him to marry her. After Celia gets down on one knee to ask Keith to marry her again, she realizes that she doesn't actually want to get married. The scene ends with the two staring off into the distance, wondering what to tell their guests.
The fifth vignette, "Uh-Oh," opens with a married couple lounging on sofa chairs and reading. After the wife, Sarah (Ellie Pena, sophomore), proclaims that she is bored to her husband, Bill (Michael Tu, sophomore), she explains that a research study showed that bored people have a tendency to kill people they love. Sarah then pulls out a gun from her handbag and points it at an unaware Bill, but it turns out to be a plastic water gun. After realizing that Sarah is actually bored, Bill decides to make more of an effort to make Sarah happier and content.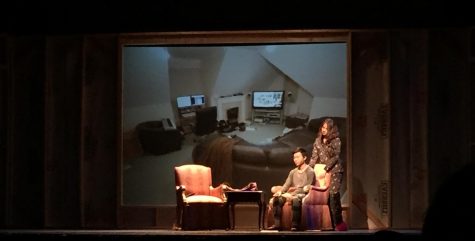 The sixth vignette, "Lunch and Dinner" follows a married couple (Fiona Connelly, senior, and Brody Melia, junior) as they realize they both cheated after not being intimate with each other for some time. The scene closes with the two deciding to try and fix their marriage.
The seventh vignette, "Forgot," opens with a married couple celebrating the wife's, Jill (Charlotte Froiland, sophomore), birthday. When the husband, Kevin (Quintin Craig, sophomore), realized that Jill is unhappy, Jill explains that she thought that they would have a child by her birthday as she is getting old and the window for having kids "is closing".
The eighth vignette, "Where Was I?," begins with Abbie (Sarah Lotsoff, junior) rifling through boxes in her garage when her wife, Liz (Michelle Brown, junior) enters with a question about their kids' bedtime routine. When the two get into an argument over Abbie's meaningless search, Abbie explodes, saying that their way of bringing up their kids is making her hate Liz because she stays home and gives her all to raise the kids while Liz works. They realize that they are both unhappy with their current lifestyle and decide to share responsibilities.
The last vignette opens with a scene in the supermarket of two strangers, Jake and Emily (Robert Banda, senior, and Grace Notbusch, junior), shopping in the same aisle. After they bump into each other, the audience realizes that the two aren't strangers but exes. The two catch up with each other. Emily explains that her husband died a few weeks ago and Jake explains that he recently divorced his wife. After the two try to rekindle their flame, they get into an argument about why they broke up. The scene ends with the two toasting to their single relationship statuses.
The entire play had parts that made the audience both erupt in laughter and ponder about the dark side of love. "The Singing Telegram" proved to be an audience favorite because of its ability to do both. The character of Louise Overbee made the audience laugh as she jumped around the stage when she thought the telegram was a marriage proposal, but her heartbroken state at the end couldn't help but induce sympathy and remorse from the audience.
"My favorite aspect of the play was the rehearsal process because we all got the time with our partners to work with Mr. Kostro and get great notes, but at the same time, we had a lot of freedom with our roles," said Noela Musil, sophomore actor.
Overall, the play captured the audience's attention for the full two hours as it took them on a rollercoaster of emotions.
"My favorite vignette was 'Uh-Oh,' because it was the funniest and most surprising of the skits. But I also really likes 'Where Was I?' because it seemed like it seemed like it was the most real example of a faded relationship. The actors in both possessed the talent to fill the scenes with striking emotion," said Maddie Czerwiec, junior.
To view the "Love/Sick" teaser video, click here.
The Drama Club will perform "The Addams Family" next, from Thursday, April 25 to Saturday, April 27.  
Leave a Comment
About the Writer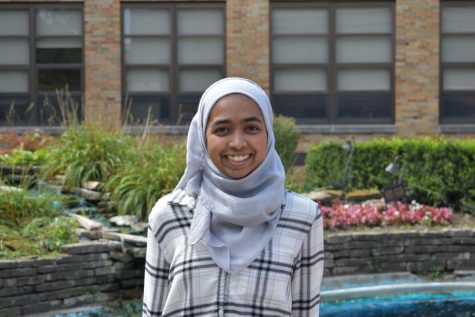 Saba Ali, Editor-in-Chief
Saba, senior, is a chocolate vacuum (basically eating any chocolate in sight) and a nap queen, who can take a nap virtually anywhere. She loves Ben &...