Drama club prepares for a scary-good performance
The drama club's next production will be the spring musical, "The Addams Family." The musical will run Thursday, April 25 and Friday, April 26 at 7 p.m. and Saturday, April 27 at 2 p.m.
The plot follows the same Addams Family featured in the old movies and TV shows. The musical follows Wednesday Addams (Emily Goggin, senior) who has grown up and has brought home her new fiancé, who is a nice gentleman from a respectful family. The story shows what happens to the rest of the clan when the fiancé's family comes to dinner.
The musical is a quirky and macabre comedy. The Addams Family musical is more contemporary than previous musicals performed at Central. The music is upbeat with a wide range of dance styles ranging from jazz to the tango.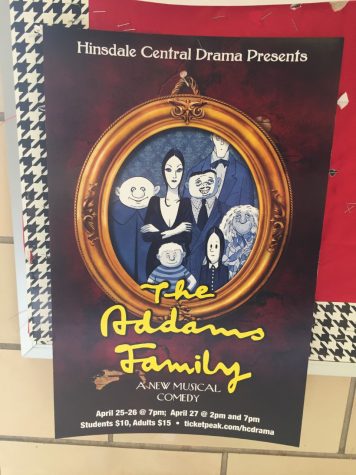 "I saw this show in 2009 in Chicago at its pre-Broadway tryout. I fell in love with the story, the characters, the music, and have wanted to direct this show for many years," said Ms. Susan Jaffe, director and English teacher. "This year, our students were the perfect fit. Our students beautifully balance humor and music with a life lesson of accepting others for their differences."
Most people know about the Addams Family from the many TV adaptations and feature films.
"I had heard of the [musical] but I really wasn't familiar with it, but when I read through the script and started hearing the music I found it to be really fun," said Brody Melia, junior who plays Uncle Fester. "It's a really funny musical, and is still very upbeat."
Students had to audition in January for the 10 available roles ranging from Addams Family familiars like Morticia (Allie Moreton, senior) to characters like Alice (Tess Kylgis, junior) who are less known.
"I am excited for the show [but] I am a bit sad to leave this chapter of my life behind," said Emily Goggin, senior who plays Wednesday. "I hope the show goes well [so] I can be proud of my last performance on the [Central] stage."
"I play Alice Beineke, who is the mother of Wednesday's boyfriend, and pretty much the opposite of the Addams," said Tess Klygis, junior. "She wears all yellow and is bright and bubbly and spouts poetry, but at the end of the first act she goes a little crazy and it's revealed that she's been keeping secrets about herself and her life."
The production has more than 100 students involved in the cast, crew, and orchestra.
"One of my favorite things about the musical at Central is how it's a mix of students who have been doing musicals and plays for their whole lives, and kids who have never done theatre before," Klygis said. "To see everyone working so hard and being so proud, regardless of their experience or passion attached, is a really cool thing to be a part of."
The audition process consisted of three parts in which actors had to sing a part of a given song, recite a monologue, and then learn and perform a dance routine.
Do NOT miss @hinsdaledrama talented cast, crew, musicians & directors of the Adams Family today at 2 & 7 PM! It's is so much fun to watch all this talent! #hardworkpaysoff pic.twitter.com/C4LSTufhU8

— HCActivities (@HCHSActivities) April 27, 2019
The cast has been rehearsing multiple hours daily since February. They will have their first run through with props, costumes, and orchestra, a week before the opening day.
"I'm supremely proud of the students of the crew, orchestra and cast and grateful to the many teachers involved [Mrs. Jennifer Burkemper, Mr. Matt Goeke, Mrs. Sarah Scholz, Mrs. Erin Lundin, and Charlie Cooper] for their amazing talent and dedication to this art," Jaffe said. "The show is funny, touching, and sounds incredible."
Tickets can be bought at the door or online for $10.
To check out information on Drama Club and pictures from the musical, click this link.
Leave a Comment
About the Contributor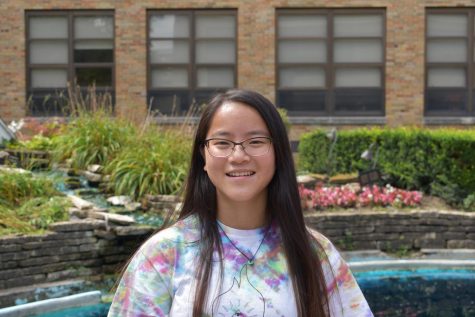 Lia Reichmann, Editor-in-Chief
Lia Reichmann, senior, is well versed in anything to do with Friends, Harry Potter, and sports. She likes to go backpacking and taking photos (follow @liareichmann_photography...