Pennywise returns in "IT Chapter Two"
Hang on for a minute...we're trying to find some more stories you might like.
"IT Chapter Two" is a horror movie franchise that features Pennywise the Clown. It is a continuation of Stephen King's original "IT" that was first written as a book and then recreated in 2017 by Director Andrés Muschietti.
The sequel has gotten a lot of buzz and gained an overall rating of 62 percent. It also holds the number one spot in the box office and it has made $40.8 million. The 2017 remake won an MTV award and has become a classic to watch. Prior to the recent remake, 1990's made for television film had garnered positive reviews.
"IT Chapter Two" shows a group of adults who live in Derry, Maine who are known as the Loser Club. Their main purpose is to defeat the evil clown Pennywise who feeds on fears and manipulates everyone by showing their worst fears.
The first movie, "IT" showed the Loser Club when they were 13 years old. At that time, they assumed they defeated Pennywise. But the legend says that Pennywise returns every 27 years, and that is how "IT Chapter Two" begins. As the 27 years pass by, the Loser Club has gone its separate ways and the members have forgotten about their past in Derry, but when a mysterious phone call from an old friend and group member Mike Hanlon takes place, they have to rethink everything.
All the members of the Loser Club are hesitant to answer Hanlon's call but they all respond in different ways. As soon as they see the call, a fear from the past starts to build up again. They are all forced to reunite one more time to defeat the evil clown. Pennywise was symbolic rather than "scary" because he played on the characters' fears.
The audience will see perspectives from the past when the group were children and in the present. The story line is similar to the first movie because the Loser Clubs fears are somewhat the same. Pennywise forces each of the members to confront their past by showing flashbacks to what happened after they defeated Pennywise for the first time.
The film was well written with a great cast that brought both comedy and drama to life. Bill Hader who plays older Richie Tozier did a fantastic job acting. He not only made the movie entertaining but blended comedy with drama.
However, the first film was better in terms of story line. It did a better job displaying the characters thoughts and emotions. Out of 10, I would give "IT Chapter Two" an eight. The cast played their characters well and the effects were frightening with some jump scares.
For students who saw the film, they had mixed reviews.
"I thought that for it being around three hours, it didn't feel super long, but there were some scenes that kind of dragged on, and also I didn't find it super scary," said Aashna Sawlani, junior. "But otherwise I thought it was really well-made and it was entertaining."
While "IT Chapter Two" did receive many positive reviews, there were some negative ones as well.
"I thought it lacked the deep plot that the first one had. It really wasn't scary at all except for cheap and repetitive jump scares. It started to become very predictable with essentially the same plot as the first one but without the feeling of the movie being told in a kids perspective," said Andrew Tannebaum, senior. "The best part of the movie [was] the acting. The producers cast the movie very well and Bill Hader's performance was the stand out for sure. [It was] definitely a disappointment compared to the first one that was actually a really impressive horror movie with a conceptual plot."
On the other hand, "IT Chapter Two" did have some pleasing fans.
"I think [the movie] was a really good mix of funny and scary. Out of 10, I would give it a nine because it was a good way to continue the movie," said Imaan Zaheer, freshman.
Overall, this movie was a good continuation of the first one, it was entertaining and well written. "IT" fans will be pleased with the ending and will be interested to see each of the characters fears and perspectives.
About the Contributors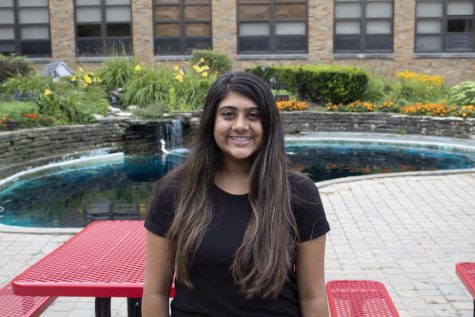 Zoya Anjarwala, Writer
Zoya Anjarwala is a friendly junior who is a new writer for Devils' Advocate and is a peer leader to her fellow freshmen. She loves to travel, binge-watch...