TikTok takes over Central
Vine died in January 2017, ending a four year era of six second, looping video clips. It brought stars such as David Dobrik and Shawn Mendes to the forefront of pop culture. As Vine phased out, Dobrik transitioned to Youtube and Mendes started releasing music.
Only one year after the release of Vine, two Chinese developers released Musical.ly to the public in August 2014. Fairly similar to Vine, it incorporated the element of lip syncing into the short videos. Users could choose an audio, usually a popular song, and lip sync or dance.
Musical.ly was relatively unknown at the time of its release, but caught on in the United States within a few years. Often considered "cringy" it brought notoriety to the likes of Jacob Sartorius and Loren Grey, who now both operate on Youtube and TikTok.
In November 2017, ByteDance, an app developer and owner of TikTok, purchased Musical.ly and less than a year later combined the two apps into one. TikTok used the idea of lip syncing to audio, however it was more humor oriented and the audio wasn't limited to only songs.
TikTok, was, at first, associated with the aforementioned "cringiness" of Musical.ly. It was met with disdain, until a few people downloaded it, often ironically. And they realized it was funny. It soon became recognized as Vine 2.0 and a perfect outlet for nonsensical Gen Z humor.
"I downloaded TikTok a while ago, last Thanksgiving, before it became popular," said Colleen McCarthy, sophomore. "I got made fun of by all my friends but now they all do it too. I first got it because Snapchat and Instagram were just getting boring, but now I am on TikTok 14 hours a week and it's addicting."
Those who had downloaded the app originally encouraged their friends to download it. Like wildfire, it spread across the school.
View this post on Instagram
"I downloaded it because my friends told me it was a funny app,'' said Karam Wafai, junior.

According to a poll of 150 students at Central, 68 percent report using TikTok.

TikTok is host to a myriad of trends, whether revolving around a specific audio, dance, or concept. Recently a sound clip from the musical "Heathers" has been trending, a dance has been created to the song "Obsessed" by Mariah Carey, and painting videos have been receiving attention.

"I really like the time travelling trend," said Emily Ascher, junior. "Because I like how it's got a super fun theme of combining history with today's humor."

The poll reported that 24 percent of students favor the trend, "Respect the Drip Karen", followed by "VSCO Girl" at 19.3 percent. A wide variety of other trends were reported to be student favorites: "The Birds Work for the Bourgeoisie", "Chinese New Year", "Runway", "Heathers", "Obsessed", and "Area 51".

TikTok has also given rise to TikTok stars, often average high school or college students that enjoyed making amusing videos. Hinsdale Central's senior Genny Haarlow is one of them.

"I decided to make my account public because my sister said I'd get famous and I didn´t believe her. About a week into my account being public I started gaining followers like crazy, and one of my videos went viral," Haarlow said. "In about three weeks I was at 10,000, in another three weeks I hit 50,000, and a week after that I got to 100,000. It all happened so fast and I couldn't believe it was happening to me."

Instagram

Haarlow's quick fame did not sit well with her or her parents, which led to her parents encouraging her to delete the app due to safety concerns.

"I'm not the kind of person who wants to be famous, and it was so overwhelming and out of control that I didn´t know what to do with myself. The experience was positive and I met so many amazing people as a result but I'm glad it ended when it did," Haarlow said.

Haarlow was included as a fan favorite TikTok star on the poll, along with other popular influencers, including Ben Buri, Eli Stevens, and Josh Stevens.

"My favorite TikTok star is Xavier Henry because he is relatable," Wafai said.

TikTok was ranked the number 1 app on the United States based on downloads, as well as one of the fastest growing apps.
Leave a Comment
About the Contributor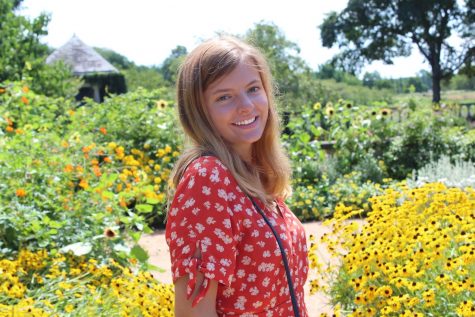 Sophie Burns, Editor-In-Chief




Sophie, a senior, is a second year member of the Devil's Advocate team. At Central, she is a mentor for Business Professionals of America,...