Netflix thriller fuels students' obsessions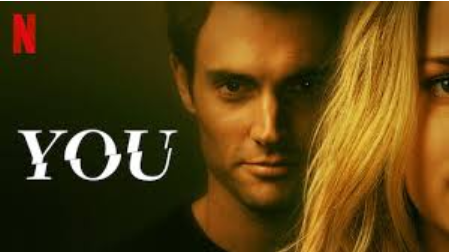 In September, 2018, Netflix released the first season of the thriller, "You". After gaining popularity, the series continued in the second season that was released in December of 2019.
"You" is a psychological thriller Netflix series that follows the protagonist Joe Goldberg (Penn Badgley), a book manager in New York City who crosses paths with an aspiring female writer, Guinevere Beck (Elizabeth Lail).
Beck becomes Goldberg's obsession and that's where a love story becomes something much more sinister. Goldberg uses social media to track Beck's presence as well as eliminate any possible obstacles in his way of their romance.
The second season of "You" introduces new characters along with some from the previous season. The setting of the show changes from New York to Los Angeles, where Goldberg plans to have a fresh start and run away from his sins. Throughout this season, we learn more about his thoughts and his childhood in more detail.
To anyone who hasn't seen "You", I would definitely recommend watching it. It is a unique mixture of romance as well as a thriller. I enjoyed the second season much more than the first because every episode had me at the edge of my seat, especially towards the finale.
"I thought it was really interesting, yes a little creepy but overall very fun to watch," said Zaina Karim, junior. "I like season two better because you get to know the main characters a lot better."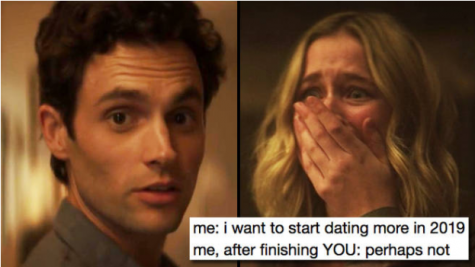 Many fans of the show have made several memes, Tik Toks, as well as tweets about the show. But I think what really got me to watch the show was my friends who constantly talked about it.
When first coming across "You", I opposed the idea of the show. I was afraid that it romanticized horrific crimes towards women: stalking, violence and even murder.
However, we see a lot of issues that were addressed in the show, especially how we interact with social media today. There is an open commentary on several societal and moral problems, from domestic violence, abuse, society's vapidness, etc.
I believe I misjudged the show too early on. Not only do the directors give us an entertaining thrill ride with season one and two, but they also get us ready for an astonishing season three.
"I really liked the show because it wasn't like any show I've seen before," said junior Naya Kelta."I definitely recommend watching it, I'd rate it a nine out of 10."
Kelta said she thought season one was better because season two got a little repetitive. For her, it was creepy but also really exciting to watch because you wanted to know what happens next.
One thing I would say I disliked about the show is the ridiculous name choices it came up with. (Guinevere, Peach, Love, Forty, Sunshine, and I can go on). The dialogue in the show was also at times very awkward. Overall, "You" is an addictive thrill ride that is fully intentional in what it is doing.
"I would definitely recommend the show to people who like TV shows that keep you binging," said Aimi Halle, freshman. "I preferred season one to season two, however, I did enjoy the show's setting and characters changing. It made the show feel less repetitive, I will definitely watch season three and am very excited about it."
Season three of Netflix's "You" is said to come out on April 9, 2021.
Leave a Comment