A Recap of the 62nd Annual Grammy Awards
On Sunday, Jan. 26, the Recording Academy hosted the 62nd Annual Grammy Awards at the Staples Center in Los Angeles, California. The ceremony began with an electrifying performance from Lizzo, performing "Cuz I Love You" and "Truth Hurts" alongside a big string orchestra. The host of the show, Alicia Keys, performed an acapella with Boyz II Men in tribute of Kobe Bryant who passed away earlier that day.
"It was very appropriate that they paid respects to Kobe and Gigi, as well as the family that lost a father and a daughter," said Christian Youngman, freshman.
The night featured performances from several artists, my favorite of which being Tyler the Creator, who performed a soulful, acapella version of "Earfquake" alongside Boyz II Men and Charlie Wilson, and a chaotic rendition of "New Magic Wand" with stunning visuals.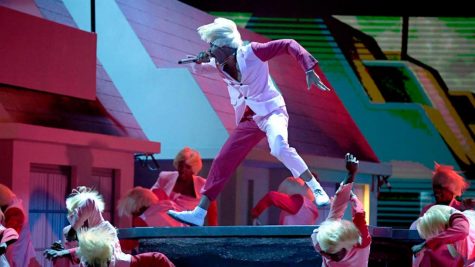 Other performances included a tribute to the late Prince performed by Usher and FKA Twigs, and a rendition of Lil Nas X's "Old Town Road" featuring BTS, Mason Ramsey, Diplo, Billy Ray Cyrus, and Nas. There was also a tribute to Nipsey Hussle, whose album "Victory Lap" was nominated for best rap album last year. This was performed by John Legend, DJ Khaled, YG, Kirk Franklin, and Meek Mill.
Only a handful of awards were announced live, including Lizzo's "Truth Hurts" winning best pop solo performance, Dan + Shay's "Speechless" winning best country duo/group performance, and Tyler the Creator's "Igor" winning best rap album.
"I'm glad that "Igor" won but once again the Grammys value commercial success over artistic value," said Andrew Tannebaum, senior.
The biggest winner of the night was one of pop's youngest and fastest growing artists Billie Eilish, who won both song and record of the year for "Bad Guy", album of the year and best pop vocal album for "When We All Fall Asleep, Where Do We Go?", and best new artist.
I was happy to see Eilish win all of these awards. While her album was far from perfect, she established a subtle, alluring sound for herself that's not only refreshing in the modern pop landscape, but feels like the next logical step forward for the genre in the mainstream, expanding upon the slower tempo sound that artists like Lorde influenced in the early 2010s. She'll likely have more longevity than most of her contemporaries.
All that being said, Lana Del Rey's "Norman F*****g Rockwell!" would've been my choice for album of the year of the ones nominated. While it was a little critic-baity with its retro style and long-winded songs, the decision to make a full blown orchestral pop album was very fitting to Rey's vulnerable approach to songwriting, and it's one of the most masterfully produced pop albums of last year.
At the end of the day, the Grammys have always chosen the safest and most commercially viable artists as their winners over the most critically acclaimed ones, as evidenced by Kendrick Lamar's "good kid, m.A.A.d. city" infamously being beaten by Macklemore's "The Heist" in 2014, and Radiohead's "Kid A" being beaten by Steely Dan's "Two Against Nature" in 2001.
"I think the Grammys are an outdated platform for the music industry to highlight its favorite money makers" said Colin Ratcliff, senior. "They would pick Billie Eilish over 100 Gecs any day of the week. Doesn't mean Eilish is bad, it just means they favor whoever makes the most money."
A few other awards announced on the Grammys official website include 21 Savage's "A Lot" winning best rap song, Vampire Weekend's "Father of the Bride" winning best alternative music album, and Nipsey Hussle's "Racks in the Middle" winning best rap performance.
Near the end of the night the academy paid tribute to artists who have passed over the last year. However, there were a few glaring omissions such as Silver Jews front man David Berman, Talk Talk front man Mark Hollis, experimental musician Scott Walker, Geto Boyz member Bushwick Bill, and Grateful Dead songwriter Robert Hunter.
After the awards, a few winners were interviewed by the academy. "On one side I'm grateful that what I've made can be acknowledged in a world like this, but it also sucks that whenever guys that look like me do anything that's genre bending they always put it in a "rap" or "urban" category…why can't we just be in pop?" said Tyler the Creator. "Half of me feels like the rap nomination was a backhanded compliment…but the other half of me is very grateful that the art that I made can be acknowledged on a level like this."
After 62 years, the Grammys continue to be a highly talked about and polarizing night for music fans.
View Comments (1)
About the Contributor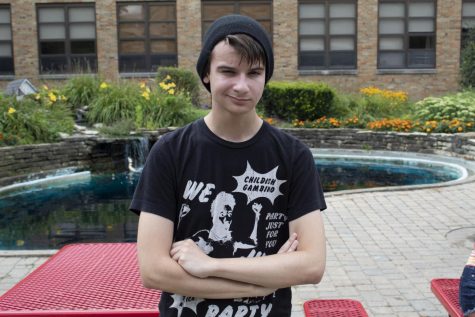 Jack Ging, Writer
Jack Ging is a senior who really enjoys writing and music. He has written hundreds of music reviews and has a YouTube channel with video essays about various...