Parks and Recreation hosts special quarantine episode
Parks and Recreation, a popular sitcom that aired from 2009 to 2015, hosted a special reunion episode on Thursday, April 30.
Actor Chris Pratt made his theatrical debut through Parks and Rec before he took on roles for other films such as Marvel and Jurassic Park. He played Andy Dwyer, a sweet and goofy character who polished shoes as a career to a children's entertainer known as Johnny Karate.
The show spanned seven seasons and portrayed the importance of participating in local government. The show centers around the main character Leslie Knope (played by Amy Poehler) who wants to build a park, and it shows her journey from being head of the parks and recreation department to becoming a local councilwoman.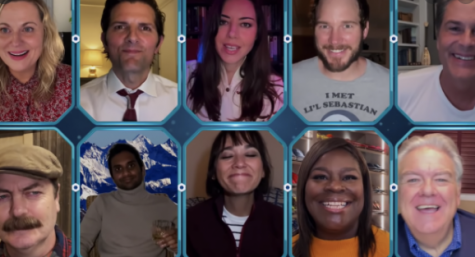 The reunion episode used humor to provide comfort to the audience in the midst of the COVID-19 crisis. The episode was 25 minutes long. They filmed the special using an app called Gryzzl that was used in the show for characters to communicate with each other online.
While the special was short, I enjoyed watching it and seeing what my favorite characters were doing with their lives. It was thoughtful of them to use their platform to raise awareness and help cope with comedy.
The episode started by having all characters phone a friend and chat once a month to check in with everyone and give a rundown of their lives. For example, former state auditor Ben Wyatt (played by Adam Scott) became a congressman, Gary (also known as Jerry) Gergich was elected mayor of Pawnee, and April Ludgate (played by Aubrey Plaza) became a veterinarian. They gave the audience an update on all of the characters and what was going on in their lives.
Ann Perkins (played by Rashida Jones) was a nurse on the show, so she talked about how important it is to follow social distancing and appreciate essential workers.
The episode provided information on how to keep busy during isolation and how to care for oneself.
"The episode was funny and it was nice to see a special since the show ended," said John King, junior. "I liked how they gave us an update on what everyone was doing with their lives and where they ended up."
The best part of the episode was when all the actors decided to sing "5,000 Candles in the Wind," a song written by characters on the show. They dedicated this rendition to the beloved horse Lil' Sebastian, who was a very important part of the show. Lil' Sebastian stood as a mascot for Pawnee and when he passed away, "5,000 Candles in the Wind" became a tribute to him.
At the end of the episode, all actors listed places that need donations to raise awareness. The special highlighted Feeding America as one of the charities to donate to and listed a mental health care website.
A total of 3.67 million viewers watched the episode while NBC collected donations from sponsors and cast members that totaled $2.8 million for Feeding America's COVID 19 Response Fund.
The special can be found on the NBC Website or on the NBC Youtube page.
Leave a Comment
About the Contributor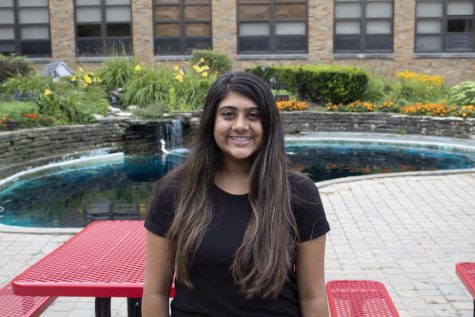 Zoya Anjarwala, Section Editor
Zoya Anjarwala is a friendly senior who is a section editor for Devils' Advocate. She is also a peer leader to her fellow freshmen. She loves to travel,...