"The Devil All the Time" is enticing more in scope than execution
On Wednesday, Sept. 16, Netflix digitally released "The Devil All the Time," a film adaptation of the novel of the same name written by Donald Ray Pollock. It follows multiple different subplots centered around themes of malice and power under multiple umbrellas, the dominant of which is religion.
The main subplot this film follows is that of Arvin Russell (Tom Holland ). He's a young adult trying to adjust to the evils he experienced throughout his life. The film starts with and extends to multiple people, including Russell's veteran father Willard (Bill Skarsgård), and local preacher Preston Teagardin (Robert Pattinson).
The main attraction to this film is clearly the cast. Holland is well-known for playing Spider-Man in the Marvel Cinematic Universe, and Sebastian Stan plays Bucky Barnes in the same universe. Skarsgård portrayed the infamous Pennywise in the two adaptations of Stephen King's "It." Pattinson also starred in "Twilight" and one "Harry Potter" movie, and most recently has been cast as the new Batman. Eliza Scanlen appeared in Greta Gerwig's adaptation of "Little Women" in 2019.
"It has two of my favorite actors: Tom Holland and Sebastian Stan," said a Central student when asked why they watched the film.
The acting in the film is good overall. Holland and Scanlen have very natural reactions to the stimuli occurring around them, making it easy to empathize with their plights. Most of the other supporting cast was fine but wasn't anything to write home about.
"I was pleasantly surprised by Robert Pattinson and Tom Holland's acting. They both captured different southern accents, which greatly influenced their characters," said another Central student.
The film was also shot and directed very well. Director Antonio Campos and cinematographer Lol Crawley were able to capture the imperfect and grimy nature that this environment held to a fault. There was so much detail that it really felt like you were there at the scene itself. At some points this even helped depict the downfall of characters, going from pristine to a general eyesore.
I had mixed opinions on Arvin's character in the story. He learned to cope with the evils around him the way his father taught him to: through retaliation. A very strong part of the film was justifying those actions. However, I felt it would've been stronger if there was something more to build off of. They never portray him as someone inherently opposed to performing these evils but rather someone neutral to them. While this isn't always a poor thing, I feel it would've worked best here as this is the only force affecting Arvin.
Given the multitude of supporting characters and subplots, the movie does tend to drag. Most of this occurs during the second act as we jump from character to character. So, instead of feeling like one great, harrowing character study, it feels like multiple fine ones. That also hurts the emotional resonance of certain scenes with the characters, as that balancing act wanes your ability to care about these characters to the best of your ability.
"I think the movie was very slow. I kept watching because I felt that I needed to continue to get the whole experience, but the first hour or so was almost painstakingly boring," said a third Central student.
Overall, the film has a lot to say, but bites off more than it can chew. However, for those willing to go through that ordeal to find thoughtful points throughout its narrative, it's certainly a worthwhile watch.
You can watch "The Devil All the Time" on Netflix with a monthly subscription.
Leave a Comment
About the Contributor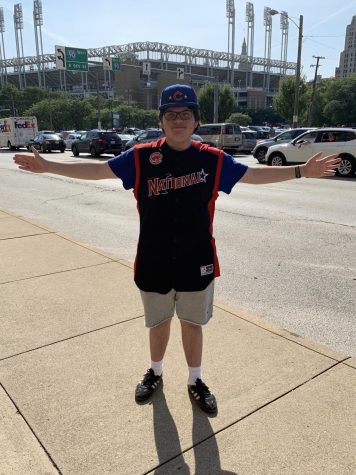 Steven Pappas, Editor-in-Chief
Steven, a senior, is enthusiastically returning to the Devils' Advocate staff this year. He loves to watch the Cubs and analyze statistics in baseball,...