"The Trial of the Chicago 7" presents a healthy meal of Aaron Sorkin without the best ingredients
Aaron Sorkin's dramatic retelling of the important trial in American history tells its story adequately but without the best gravitas that he's capable of.
On Friday, Oct. 16, Netflix digitally released "The Trial of the Chicago 7" to its streaming platform. The film stars Eddie Redmayne and Sacha Baron Cohen and the true story of the Chicago Seven, a group of people that was prosecuted for acts against the Vietnam War in the late 1960s.
The film has well-known actors among the cast. Eddie Redmayne won an Academy Award for "The Theory of Everything" and was nominated for his role in "The Danish Girl." Sacha Baron Cohen is most well-known for the critically acclaimed mockumentary "Borat: Cultural Learnings of America for Make Benefit Glorious Nation of Kazakhstan," but has taken more dramatic roles in "Hugo" and "Les Misérables." Other actors featured who have garnered praise for prior performances include Yahya Abdul-Mateen II, Michael Keaton, and Joseph Gordon-Levitt.
The acting is not as impressive as one would expect, but the performances were quite adequate. Redmayne and John Carroll Lynch stuck out the most, filling the emotional spectrums of their respective characters effectively. Redmayne jumps from extreme to extreme on different emotions believably, helping to cement the frustrated mind of his character Hayden throughout the entire movie. Lynch carries power in every movement and emotion he makes, something that's noticeable in prior performances as well.
The film is the latest in the illustrious filmography of Aaron Sorkin, who's well-known for his critically acclaimed biopics "The Social Network," "Moneyball," and "Steve Jobs." Most of his filmography credits him as a screenwriter, but lately, he has taken ventures into directing. This marks his second directorial credit after "Molly's Game," which was released in 2017.
"I've seen most of his films," said Boone Brackett, senior. "I liked 'Molly's Game' the best because it was a coherent story that was interesting, well-acted, and well-choreographed."
Some of Sorkin's trademark styles are present in this film. The dialogue and pacing are quick, formal, and snappy, as certain scenes create a grand dramatic gravitas that sticks with you after you watch them. Most scenes are fluid and edited quickly rather than stale. This really helps to improve the dullness that the film exudes, with the color scheme being primarily limited to tones of brown, gray, and tan. Those qualities also give the film a surprising amount of humor.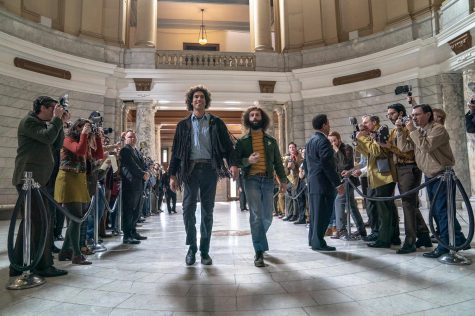 "I liked how they portrayed each side of the characters' story," said Kaila Kuo, junior.
Redmayne's Tom Hayden often clashes with Cohen's Abbie Hoffman and sometimes Jeremy Strong's Jerry Rubin. The primary conflict comes in how they approach the trial, with Hayden taking a dislike to Hoffman's care-free attitude at this time. This mainly falls under how Hayden thinks of Hoffman as a person, something that cleans itself up in a way that made sense but left me largely unsatisfied.
Sorkin's best work enthralls you into the conflict at hand by being able to memorably contrast its characters to leave a lasting impression. "The Social Network" provides the best example of this. Jesse Eisenberg's Academy Award nominated Mark Zuckerberg clashes with characters that have distinct styles about them. Sorkin contrasts them wonderfully, allowing us to know each character from something as simple as how they present themselves or the way they speak.
Another issue I had was with the character of Richard Schultz, played by Gordon-Levitt. Gordon-Levitt is capable of taking on dramatic performances with poise, but Sorkin didn't give him much to work with in regards to his character. There are a lot of inferable directions that Sorkin takes, but he puts you at an arm's reach of the character's issues regarding this. A perspective juggling with the issue at hand while fighting for the other side would've been amazing in regards to telling this story, but Sorkin never gives us that opportunity.
Overall, "The Trial of the Chicago 7" tells us its story with Sorkin's mannerisms to the extent of a good film but doesn't quite reach that pinnacle that he's shown to be capable of climbing and leaving his mark upon.
"I would rewatch the film because there is a lot that I missed and it would be nice to go back and rewatch to catch more detail," said Holden Satre, sophomore. "I think it allows for a good understanding of the real event."
You can watch "The Trial of the Chicago 7" on Netflix with a monthly description.
Leave a Comment
About the Contributor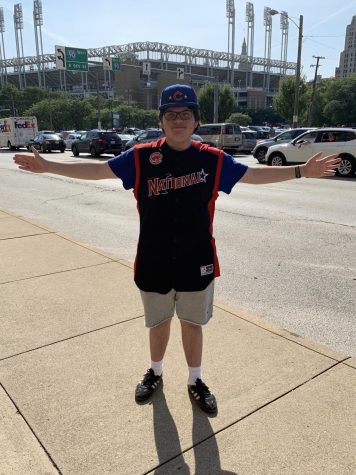 Steven Pappas, Editor-in-Chief
Steven, a senior, is enthusiastically returning to the Devils' Advocate staff this year. He loves to watch the Cubs and analyze statistics in baseball,...