"Happiest Season" overcomes its tropes to succeed as a fast, heartwarming feature
Clea DuVall's second directorial credit wonderfully uses Kristen Stewart and Mackenzie Davis's chemistry to make a heartwarming Christmas rom-com.
On Wednesday, Nov. 25, Hulu released "Happiest Season" to its streaming platform. The film follows Abby Holland and Harper Caldwell, played by Kristen Stewart and Mackenzie Davis respectively. The two try to keep their relationship afloat as they visit Harper's unknowing parents for Christmas.
The film features a strong cast from top to bottom. Stewart is well-known for playing Isabella "Bella" Swan, the protagonist of the "Twilight" film series, and Davis starred as Cameron Howe in the critically acclaimed "Halt and Catch Fire." Rounding out the cast are Academy Award-winning actress Mary Steenburgen, Golden Globe-nominated actress Alison Brie, and Emmy Award-nominated actor Victor Garber.
"It exceeded my expectations. I haven't seen Kristen Stewart in anything besides "Twilight," and, because I read the books, I hated her character. It was nice to see her as someone besides Bella Swan," said Hannah Brown, freshman.
The acting in the movie is very convincing and nuanced. Stewart and Davis stand out, as they both command their scenes so effectively to the direction of the film. I never got the feeling that they misunderstood the tone of a scene. I thought that this really helped the film progress in a very natural way. They also have tremendous chemistry, so I bought the relationship from the very start. This also helped sell me on their dynamic with or against each other.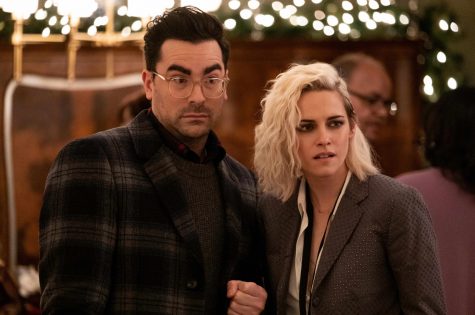 The supporting cast rounds out their roles effectively as well. While they're beneficial overall, Dan Levy, Emmy Award-winning star of "Schitt's Creek" stands out among the rest. He stars as Abby's friend John, a man who is as good of a friend to Abby as bad as he is at taking care of fish. He plays off the dynamic of the environment very well, either convincing the audience as a good friend or comedic relief. 
While the film is a romantic comedy, it has a deft dramatic gravitas. Abby, who lost her parents on Christmas, hopes to recreate the relationship she lost with Harper and her family. Harper, on the other hand, hopes to carefully navigate her competitive and rocky family with her relationship with Abby as she hasn't come out to her parents yet. I was hooked into this dynamic from the very beginning thanks to Clea DuVall and Mary Holland's strong screenplay.
I found a strong difference between the touch that DuVall and Holland have compared to other formulaic comedies. They all share predictable and familiar beats, but where the effectiveness of the film is present is in how the filmmakers and actors command the film. It all starts from the top and, in this case, it's done effectively with these two women. It reminded me of "Silver Linings Playbook" with how it took this familiar and bloated genre and turned it into a moving film. It's not up to that level though, as I felt that the film did resolve its issues more cleanly than it needed to and did drag a bit more than it could've towards the end.
"It met my expectations as a kinda silly but good Christmas movie," said Rebecca Sallet, sophomore.
Along with her screenwriter credit, DuVall directs the film. This is her second feature film after "The Intervention." Her directorial touch is very experienced for this being her second film, and she is very capable of commanding this genre even further in the future. The film manages to blend its dramatic elements with a careful, homey touch that rings familiar to the audience in a cheerful way. Not only does this further convince the audience of Abby and Harper's relationship as they navigate its set-pieces, but it makes the film very well-paced as well.
Once the film ended, I closed my computer and took the time to notice the smile on my face and the happiness in my mind. And, when I can end the same way that the film did, I consider it something that I'd have no problem running back. So please, put on this film and watch it with your family. We can all use a little holiday cheer now more than ever.
You can watch "Happiest Season" on Hulu with a monthly subscription.
Leave a Comment
About the Contributor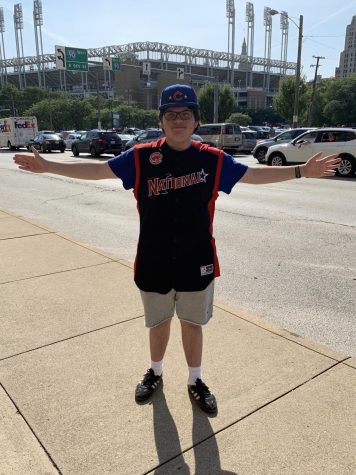 Steven Pappas, Editor-in-Chief
Steven, a senior, is enthusiastically returning to the Devils' Advocate staff this year. He loves to watch the Cubs and analyze statistics in baseball,...