"Nomadland" takes command of Chloé Zhao's intimate direction and Frances McDormand's heartfelt performance
Chloé Zhao's third feature film brings a forgotten populous in American history to the forefront of her powerful talents.
On Friday, Feb. 19, Hulu released "Nomadland" to its streaming platform. The film centers around Fern (Frances McDormand) an elderly woman who lost her job and home in Empire, NV following the Great Recession. In response to this and her husband's death, she lives her life as a van-dwelling nomad.
The piece is led by Chloé Zhao and is her third feature film. She previously made "Songs My Brothers Taught Me" and the critically acclaimed "The Rider." Her creative control over this project, similar to her previous feature film credits, is immense. She served as the director, writer, editor, and one of the producers. 
Her direction and Joshua James Richards's cinematography draw comparisons to Terrence Malick films, with majestic yet serene landscape shots encapsulating Fern's ever-changing journey. The touch of each and every shot is appreciative rather than piteous. They exude care into the journey that the nomadic subject matter entails and the numerous rich stories behind them.
Zhao primarily adopts a cut-by-cut editing style that entails little movement from the camera itself. It allows her to approach the infinite scenery from so many different angles, and she uses that to her advantage. She adjusts the scope of these shots with complete control of the scene's tone.
When Zhao moves the camera in tracking shots, she takes the opportunity to showcase a tribe amidst a landscape that has forgotten them. It's entrancing to look upon this as she follows Fern with the soft piano music of Italian composer Ludovico Einaudi. It perfectly exemplifies her care for the nomadic way of life while maintaining complete realism. As Fern walks through the land that the van-dwellers occupy, her actions are emblematic of the viewer. Her words are in pure simple greetings as she moves to view the beauty in the community and nature around her.
Zhao's realism is prominent in the film's runtime as well. Many scenes are devoted to showing the way of life of a van-dweller. It's heart-wrenching to watch Fern urinate on the side of a road, defecate in a bucket, and struggle to find parking lots so that she can spend freezing nights in her van. It's a difficult and dangerous life to live. Even in the film's more mundane scenes, there's little formality or elegance to its set or costume design. They sit in lawn chairs, wear old clothes, cut their own hair, and make kitchens and beds in their own vans.
Zhao's screenplay furthers the film's realism as it tells the stories of some of the film's prominent nomads. They're personal and often tragic. Most of the van-dwellers started this way of life without their own accord, and that becomes glaringly more obvious as we get whisked away into their lives. The film's biggest strength comes from Zhao's impeccable ability to balance her appreciation for modern nomads while understanding their hardships with powerful empathy.
Zhao and McDormand connect on this outlook towards the piece. McDormand's near-unrivaled versatility and deft range of acting shine in her performance as Fern. Her range has extended from a cheery Minnesota cop in "Fargo" to a woman hell-bent on vergence in "Three Billboards Outside Ebbing Missouri" (both performances garnered her Academy Awards). However, at the heart of it all is the same balance that Zhao brings to the table.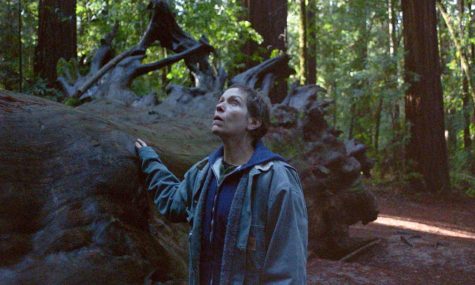 Every character in a film is subject to actions outside their control. Fern's situation is no different, and she's led by life's cruel push. It's that vulnerability and pain that underlines every crevice that McDormand brings to Fern. It's subtly prominent as most of her performances are and affects every decision she makes. When she opens herself up to the comfort of a home with people close to her, most notably Dave (David Strathairn), she's attracted to the nomadic lifestyle continuously.
Fern's conscious decision-making culminates into a beautiful if not overlooked monologue, where she ends by regretfully reminiscing upon the life that was. And in that moment of pure despair, Bob Wells (himself), recounts his feelings following his son's suicide. He ends by saying "I'll see you down the road." It's an optimistic appraisal of the connection that the nomadic community has, but also one for the grief and loss that is omnipresent. 
There's no singular epiphany or moment of catharsis, but rather a multitude of moments that together help heal the human soul. The true optimism that the film holds comes from the connection between the ones who were forgotten. We'll see you down the road.
You can watch "Nomadland" on Hulu with a monthly subscription.
Leave a Comment
About the Contributor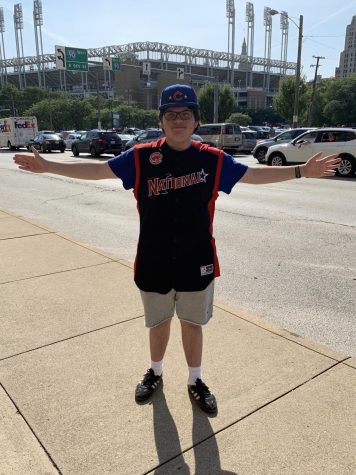 Steven Pappas, Editor-in-Chief
Steven, a senior, is enthusiastically returning to the Devils' Advocate staff this year. He loves to watch the Cubs and analyze statistics in baseball,...