Moxie follow-up: An Interview With Emily Hopper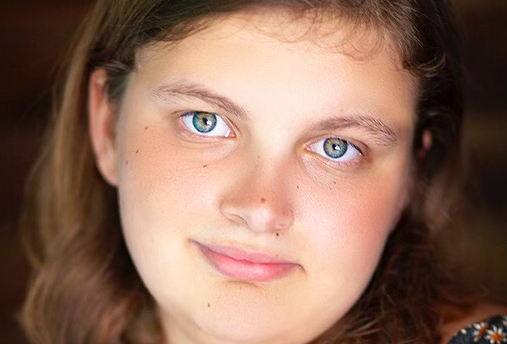 Emily Hopper played an important role in Nexflix's new movie "Moxie" as Meg, a differently-abled student in the school's marching band. Emily's mom, Amy Hopper is a Hinsdale Central alum who helped facilitate the interview and wrote the following bio for her daughter. 
Emily was born a happy, healthy baby, and brought joy to everyone around her. At 11 months old, she contracted MRSA Endocarditis, a "super bug" that lived in her heart and nearly lost her life. The doctors gave her a 30% chance of surviving and said if she did survive, she had a 90% chance of being in a vegetative state. She beat the odds and survived after open heart surgery to remove the ball of bacteria on her mitral valve, and having both feet and several fingers amputated. The infection caused global traumatic brain injury. After years of Infant Stimulation, Physical, Occupational, Speech, Cranio-sacral, Equine, and other therapies, along with finding the right prosthetics for a growing girl, and the right schools for her learning differences, we recognized we needed to find a fun, social, and emotional activity for her. We enrolled Emily in acting classes with typical kids, and after her first class she came out smiling and said, "I've found my people!" Since then, she has continued her acting classes, made several short films with her classmates and developed meaningful friendships. Three years ago, we made our first film for the Easterseals Disability Film Challenge and "Best Enemies" was a finalist, 2 years ago our film, "Parents Inc." won Best Film. "Parents Inc." has been selected to several film festivals and won several awards, and Emily has won Best Young Actress in a few festivals. "Parents Inc." and Emily, and Emily's sense of humor caught the eye of a casting agent who had her audition for the Netflix film MOXIE directed by Amy Poehler. Amy said, I want that girl and got the role! Emily plays Meg, a differently-abled student whose humor and attitude steal a few scenes! Poehler has given Emily the opportunity to learn more about drama, improv, and production as well as give her a place to meet and connect with peers, teachers, staff and administration. Emily watches a lot of SNL and aspires to be on the show one day. Her favorite T.V. show is "Once Upon A Time". She loves fairy tales because they spread hope and always make you think that everything will be okay afterwards. Lastly, she loves to sing. 
Q: How did you get the role of Meg? 
A: I got the part when someone from Netflix saw a short film that I did for the Easterseals Disability Film Industry and they saw the film and they were like 'This girl is super funny we should have her in the film,' and they emailed my mom for an audition…And actually the instant after I did the audition my mom got an email from Netflix saying 'We found out Meg your daughter is going to be Meg in the movie "Moxie."' 
Q: What was the environment on set like?
A: The environment on set was super cool, everyone was so nice and so caring and so supportive, especially Amy Poelher. The minute I met Amy she gave me a huge hug and I was like 'Oh my god, I'm hugging Amy Poehler. This is awesome.'
Q: Did you have experiences in high school that allowed you to relate to your character? If so, what?
A: Well, to be fair I'm still in high school right now. I'm graduating this year. I honestly feel the same way as Meg, like I've been in Meg's shoes. Half of my life I felt like the black sheep of the whole place. My hands were different, my legs were different, and also I've been through a lot of tough stuff. 
Q: What was your experience with the other actors and actresses on set? 
A: They were so kind. I think I had the most connection with Alycia, [Alycia Pascual playing Lucy] because she is a badass queen. She is like the supportive sister that you always wish you had. She's like 'I've got you.' She kind of looks like a fighter but she also has a really caring heart. After I saw the film, she texted me and was like 'What is your address I want to send you something,' so I sent her my address and a few minutes later I got flowers from her. 
Q: Did you get to meet Amy Poelher? What was she like? 
A: Amy Poehler is honestly super nice, she's super supportive and she's super super funny. She's also a really good motivator. She can help you get over anything, like she helped me get over my anxiety because I have really bad anxiety and she is the reason why I'm calm.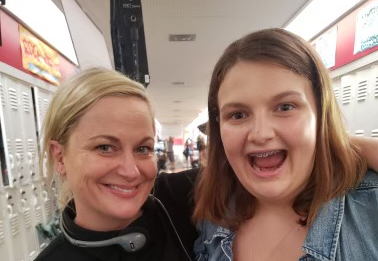 Q: What is your favorite memory from the experience?
A: My favorite memory of all was meeting all of the people we did the movie with because it was a huge dream come true for me. 
Q: How would you rate your overall experience 1/10?
A: I am going to go with 100% for being the awesomest badass chick-flick movie of all time. 
Q: Is there anything else you'd like to share? 
A: I really want people to know how I got here and I really want to know what peoples reactions are.
Leave a Comment
About the Contributor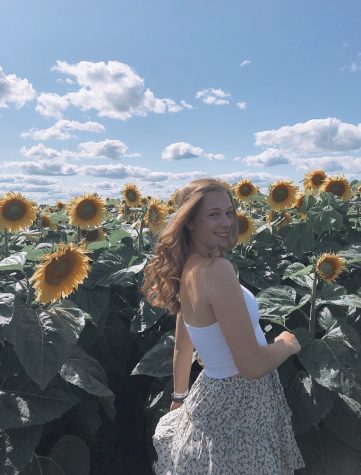 Skylar Penland, Writer
Skylar, a senior, is excited to join the Devils' Advocate Team. She loves dancing and doing yoga. Skylar is an executive member of The Community House's...