Daniel Craig's "No Time to Die" releases in theatres
On Oct. 8, after being pushed back for nearly a year, Eon Productions released the final movie of Daniel Craig's "James Bond", "No Time To Die." The movie takes place after Bond has retired, and follows his final mission as a British secret intelligence agent. 
The film stars many familiar characters including Felix Leighter (played by Jeffrey Wright), Moneypenny (played by Naomie Harris), and Q (played by Ben Whishaw). It also introduces new characters, including the new 007, played by Lashana Lynch.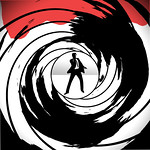 Cary Joji Fukunaga, an American director, made his action movie debut with his first Bond film. Fukunaga was brought in after the previous director, Danny Boyle, officially resigned due to "creative differences." Despite Boyle's exit, Fukunaga proved to be an equally exceptional choice, as his directing style fit the classic structure of a Bond film. 
Many intense James Bond fans were critical of Craig's interpretation of the series, as it takes a very different approach to the popular nature of the movies. Old trademarks, such as the cool gadgets used by the characters, are not as prominent in the 21st-century adaptation. Similarly, Craig's Bond removed the element of impracticality associated with the traditional spy missions. Instead, they bring a more realistic approach to espionage, involving high stakes and making an apparent effort to humanize Bond. 
As for the 2021 released film, Fukunaga, while still upholding the grounded identity, pays homage to the established persona of the series. There's a variety of different weapons present and used by Bond, giving a fun twist to the action. The notable catchphrase, "We have all the time in the world," is frequently quipped by Bond, playing into the nostalgia associated with the finale. 
"I liked how they switched from the past to the present," said Anisha Undevia, junior. "It was really interesting how they used different saturation and filming techniques to display different points in time."
In this film, the British Secret Intelligence Service has given the 007 title to a new agent: Nomi. Although there was a great deal of controversy surrounding this development, Lynch herself calls the change "revolutionary." Passing the title to a person of color was not the only major development; it also featured a very dramatic change in dynamics between Bond and the women in the film. The incredibly antiquated idea of powerful men using women has been retired, most likely for good. 
"At the end of the day there's still representation, and any representation is better than none," said  Maurice Tobiano, senior and film club member. "Even though it's a little controversial, you have to take those few steps to integrate something new."
"No Time to Die" satisfied the expectations associated with epic finales. It effectively manages to develop its main characters while simultaneously delivering impressive and beautifully shot action sequences. Whether you're a fan of James Bond or not, you will leave the theatre pleased with the film overall. 
"I like the fact that the series is never-ending… I think it will be cool to see it continue. But maybe it is a good thing to end the series due to all the controversy surrounding it. This ending opens doors to new ways to make it more diverse," said Zuzanna Sokolowski, junior.
"No Time to Die" is playing in all theatres now to see showtimes you can visit AMC's website. 
Leave a Comment