Rex Orange County releases new album, WHO CARES?
Alexander James O'Connor, who is most commonly known as Rex Orange County, released a new album, titled WHO CARES? on March 11, 2022. The singer rose to popularity after the debut of his first album, Bcos U Will Never B Free, which was self released. Rex Orange County was born in England, and WHO CARES? is set to reach the number one album in the United Kingdom.
WHO CARES? consists of 11 alternative songs that were written during the height of the Corona virus pandemic. Most of the songs in the album have a motivational outlook, and this positive attitude may help many who are dealing with feelings of uncertainty and fear due to the COVID-19 pandemic.
Tyler Gregory Okonma, who is professionally known as Tyler, the Creator, is featured in the album's song "OPEN A WINDOW." Tyler, the Creator is a popular rapper who has been releasing music for over a decade. His most famous album is Flower Boy. This iconic duo has teamed up to create a song that has become highly favored by fans.
My top three songs in WHO CARES?:
#3: "WORTH IT"
The third track on the album, "WORTH IT," is much shorter than the rest of the songs, but is empowering. Rex Orange County reflects on the struggle of accepting change. While change can sometimes feel like a fresh start, other times it can be difficult, as we often blame ourselves for it. 
My favorite lyric:
"And I'm not sure
Why things changed
What's worth it anymore?
Am I not the same?
Now I'm not sure
If I'm to blame, yeah"
"This album seems to resonate with everyone who has listened to it," said Sara Ellithorpe, junior.
My respect for Rex Orange County skyrocketed after listening to this song, as talking about these subjects can make one feel vulnerable. Through this song he shows his fans that it is truly okay to feel conflicted about change. The spread of COVID-19 changed the lives of many people around the world. Disruption to schedules, schooling, and everything that was normal in our lives occurred without warning. These events left people feeling uneasy, leaving many to struggle with mental health issues. Music has a way of lifting your spirits and changing your outlook on life, and "WORTH IT" was able to achieve this.  
#2: "THE SHADE"
In 2019, Rex Orange County released an album titled Pony, and since then, fans have been patiently waiting for a new album to be announced. Their wishes were granted with WHO CARES?, and songs like "THE SHADE" made the three year gap between albums worth it. 
"I feel that Rex Orange County is such a popular artist because his music is easy to understand, and is very relatable," said Audrey Austin, junior.
Austin has been a Rex Orange County fan for years, and is planning on going to his upcoming tour.
For many, quarantine evoked feelings of loneliness and solitude. In "THE SHADE," the eighth song on the track, Rex Orange County lets listeners know that they are truly never alone, which can bring comfort. 
My favorite lyric:
"I was stayin' by your side, just so I knew you were okay"
In my opinion, this song has generic lyrics, but they all spoke to me in a way, making it one of my favorites in the album. The sounds in the background are mellow, and it is the perfect song for studying or relaxing.
#1: "KEEP IT UP"
"KEEP IT UP," the first song on the track, has a lively beat that is bound to get anyone out of a slump. In this song, Rex Orange County applauds anyone who is pushing through tough obstacles on a daily basis; comforting, to say the least.
"This is my favorite song in Rex Orange County's new album, and I haven't stopped listening to it ever since it was released," said Cara Salvi, senior.
Personally, I love the vivacious energy this song has, and it can be played anywhere. Whether you are blasting music with friends, going on a walk, or tidying your room, "KEEP IT UP" fits the vibe.
My favorite lyric:
"Keep it up and go on
You're only holding out for what you want,
you no longer owe the strangers
It's enough, it's enough"
"Rex's alternative style of music is what makes me love him as an artist," Ellithorpe said. 
Fans all around agree that Rex Orange County's music style and creative lyrics are what make him a joy to listen to.
WHO CARES? appeals to everyone, as all of the songs evoke different feelings; sadness, happiness, and excitement. One thing they all have in common is that they are pleasant on the ears, and can easily be enjoyed everywhere. 
Rex Orange County is beginning a tour in May, 2022, and tickets are available online. If you wish to learn more about his music and watch new videos, click here.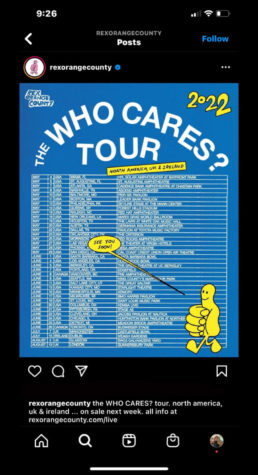 Leave a Comment
About the Contributor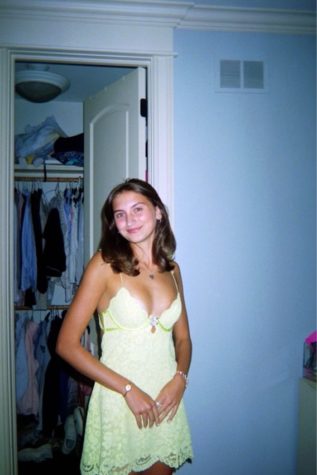 Taylor Levin
Taylor Levin, senior, is excited to be returning to Devil's Advocate as an Editor-In-Chief. She spends most of her time playing tennis for the Hinsdale...