The upcoming summer concert panel in Chicago
With summer approaching, there are endless activities to enjoy on a warm day. Taking long walks in nature, relaxing by the pool and having picnics with friends are all possibilities for an ideal summer day, but one activity that is favored by many is summer concerts. In the Chicagoland area, there are a variety of different artists performing this summer.
"I am so excited for all the concerts I am going to this summer. Summer concerts have this special feeling to them, making them very worthwhile," said Mara Niemeyer, junior. 
Rex Orange County, an English singer and songwriter, is coming to Chicago on June 24, 2022. He is currently on tour performing his new album, WHO CARES? The venue will be hosted by the Huntington Bank Pavilion at Northerly Island in Chicago, Ill. The pavilion is solely outdoors, making it a great way to soak up the warm, fresh air of the city. The concert is scheduled for 8:30 p.m. If you are debating on going to Rex's concert- it is a must see. 
"I went to a Rex Orange County concert a few years ago, and it was one of the best nights of my life," said Amanda McLaughlin, junior. 
Lollapalooza, an event which first started in 1991, is a popular Chicago tradition. It is a four day music festival, with an abundance of artists performing each day. This year, it starts on July 28, 2022, and ends on July 31, 2022. Lollapalooza is hosted in Grant Park, right in the heart of Chicago. Each year, thousands of people arrive from all over the country, making it one of the biggest music festivals in the United States. Some headliners this year include Dua Lipa, J. Cole, Wallows, Doja Cat, and Charlie XCX. One day, two day, three day, and four day tickets are available now for purchase.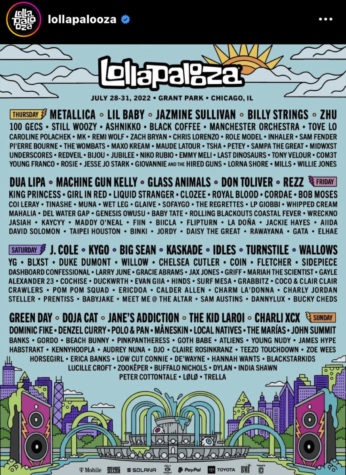 Pitbull and Iggy Azalea are taking on Highland Park, Ill. at The Pavilion at Ravinia. Fans of Pitbull claim that his concerts are never dull and worth the cost of the pricey tickets. Pitbull has been releasing music for over a decade, and his songs are in the hip-hop genre. He will be in Highland Park on August 25, 2022. Don't miss this iconic star when he performs near you.
A famous rock band–The Lumineers–will be taking the stage at Wrigley Field in Chicago, Ill. A perfect way to conclude the summer, the rock band will be performing on September 3, 2022. The Lumineers are widely known for their song "Ophelia," which was released in 2016. 
"There are more festivals during the summer, which are always more fun, because you see a lot of people you know," said Arjun Shan, sophomore. 
Summer is concert season in Chicago, and this year most people are looking forward to this highly anticipated line up of musical artists. It's time to relax, decompress and get your groove on in the Windy City.  
Leave a Comment
About the Contributor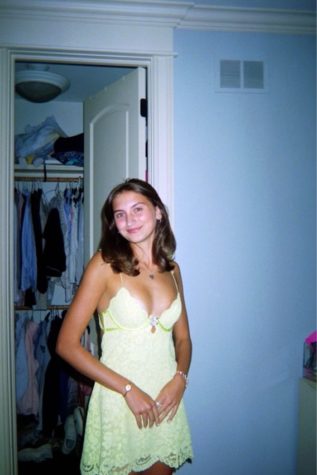 Taylor Levin
Taylor Levin, senior, is excited to be returning to Devil's Advocate as an Editor-In-Chief. She spends most of her time playing tennis for the Hinsdale...