On Sept. 21-23, the Hinsdale Central Drama Club performed the play "Silent Sky," their first show of the year.
"Silent Sky" is about Henrietta Leavitt, a woman working at NASA in the early 1900s. The story follows her journey and experience as a young woman working in a male dominated field. 
In order to get into that mindset and perspective, the cast had to prepare.
"We did a lot of research regarding women in the 1900s, because most of these characters [were] real people or based on real people…we really delved into their biographies," said Grace McGowan, senior.
Story continues below advertisement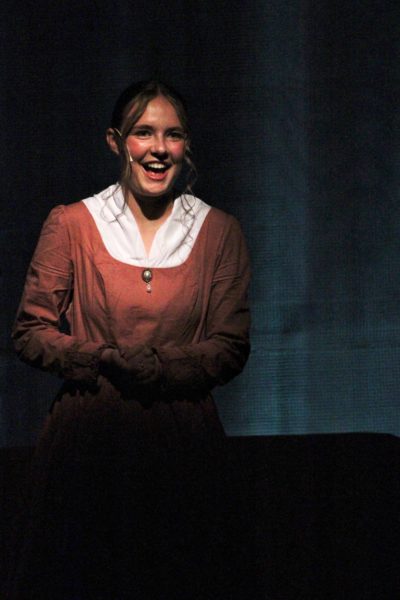 The actors also had to embrace their characters and take on their mindsets. 
"I liked having to learn a Scottish accent," said Miette Morris, senior. "It stretched my abilities as an actor and allowed me to get out of my own head."
The Drama Club began working on the show the second week of August, prior to the beginning of the school year.
"It was really nice to start before school to help us get into it," McGowan said.
The visuals during the show were centered around the galaxy, with the lighting during certain scenes reflecting the stars and their patterns.
"The theme of it [was the] sky," said Arianna Messana, junior. "The stars in the backdrops were there to show [the theme] for the audience."
When it came to preparing for the show, the crew had many responsibilities.
"We have a tech week put in place where we add in lights, audio and props," Messana said. "There are a variety of things put into making it look how it is, whether it be spots, the light board, sound board or back stage." 
Since the seniors from last year have graduated, the current Drama Club members are taking on more responsibility.
"We're really working hard to keep up their legacy, especially after COVID when a lot of stuff shut down," McGowan said. 
The next project for the Drama Club is "Mutually Assured Destruction," the freshman play. To receive updates regarding the upcoming Drama Club productions, please click here.