While some count seasons by days or weeks, I count by how many shows I can binge. Here's a list of spooky, cozy shows to binge your way through until Christmas.
For the Rom-Com Lovers: "Gilmore Girls"
Taking place in the small town of Stars Hollow, this heartfelt, early 2000s show follows a young mother and her teenage daughter as they navigate life together.
The magic of this perfect small town is that it always somehow feels like fall; maybe it's the coziness, maybe Connecticut is just really good at decorating for the holidays. Whatever it is was truly intentional.
Story continues below advertisement
"The atmosphere of the show reminds me of fall," said Helena Tragas, senior.
Amy Sherman Palladino, the show's creator, came up with the concept when she and her husband were visiting the small town of Washington Depot, Connecticut, in–you guessed it–October.
For Lovers of the Supernatural: "Chilling Adventures of Sabrina"
If you're a fan of the classic kids show "Sabrina the Teenage Witch", or of magic in general, this show might be calling your name.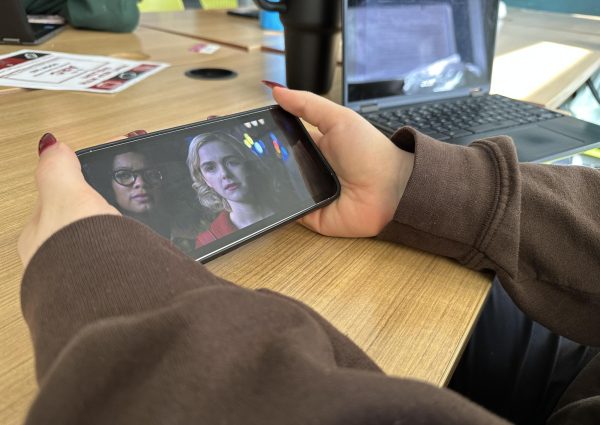 Nicknamed "Sabrina", the show revolves around the life of a half-human, half-witch teenage girl and her path to find the normal in a very un-normal world. 
For the Horror Seekers: "American Horror Story: Asylum"
This might be biased since this is my favorite season, but "Asylum" is one of the few seasons that really elevates the thrill/horror aspect of the show. 
For those unaware, "American Horror Story" functions differently than your average show. For example, in "Friends," there are just the same set of characters and consecutive storylines that progress throughout each season. In the "American Horror Story" universe, each season is a different plot with different characters performed by recurring actors.
The "Asylum" season takes place in a church organized facility for the mentally insane, ruled by an unsettling nun. 
"I like it because of the juxtaposition," said Kyra Arnouk, junior. "Sister Jude was running an insane asylum but she was one of the [best] people there."
As secrets unfold and dangers are revealed, "Asylum" is not a season I'd recommend watching after dark. 
For the True Crime Junkies: "Criminal Minds"
In the world of crime shows, "Criminal Minds" is the holy grail. It's different from other crime shows, being that the characters belong to a branch of the FBI that doesn't exist in real life: the behavioral analysis unit. The unit analyzes criminal cases by thinking like the criminal, also known as the "unsub."
"I love 'Criminal Minds' because you get to learn in depth about the unsub and why they are the way they are," said Alice Quaranta, junior. 
Each character heavily contributes, but none more than protagonist Spencer Reed. 
The cases are extremely well written and have interesting turns that will have you constantly on edge. If you enjoy other crime shows, I would recommend watching.
For the Action Lovers: "Buffy the Vampire Slayer"
Again, this might just be plain biased since this is one of my personal favorite shows. However, "Buffy the Vampire Slayer" really does take the cake as the best Halloween show, especially since the characters and stories are almost all Halloween themed. 
15-year-old Buffy Summers moves to Sunnyvale for a fresh start at being a normal high schooler after having burned down the library of her previous school. Though, in her defense, it is hard to be a normal girl when you've been chosen to become the next vampire slayer who must protect all of humanity in the process. 
Watching Buffy try to find her balance between her world and the next, boys and monsters and more is definitely an experience I would recommend. 
"Buffy the Vampire Slayer," "Criminal Minds" and "American Horror Story: Asylum" are available to stream on Hulu. "Chilling Adventures of Sabrina" and "Gilmore Girls" are available to stream on Netflix.