Puppy bowl 2016 takes the world by storm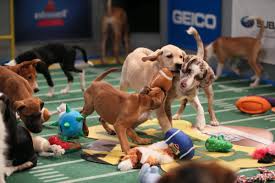 While the entire nation watched middle-aged men give each other permanent brain damage this weekend, I enjoyed myself watching Team Ruff take down Team Fluff 70-44 in the highly coveted 2016 Puppy Bowl. 
To no one's surprise, Team Ruff's star, Star, was named the game's undisputed MVP, Most Valuable Puppy. He finished the game with three touchdowns and an impressive takeaway from Team Fluff's Leah, who still claims there was paws interference on the play. Star was able to captivate the fans with his improbable double touchdown late in the game.
Darby helped get Team Ruff to start on the right paw with two early touchdowns, but found himself lounging around the water bowl for the remainder of the match. Clearly, someone had a few too many Beggin' Strips before the game.
Perhaps the highlight of the game was when the former MVP's were called to the stage at halftime to commemorate their great play in years past. Rudy from Puppy Bowl X and Balcor from Puppy Bowl XI were among the greats that made an appearance.
One tortoise somehow found its way onto the field during the game, and play was forced to be halted for a few hours while the tortoise traveled across the 20-foot field.
Although the puppies were the stars of the show, it never could have happened without Stanley the Skunk. He was the harsh and intense referee who made sure all puppies kept their paws to themselves and played within the rule book. Many followers complained about Stanley's lack of a professional uniform, however he claimed to the media that his fur was his uniform.
If you found yourself sucked into the media wormhole that is the Super Bowl this year, don't fret. There's always next year.