Peer Buddies brings joy to students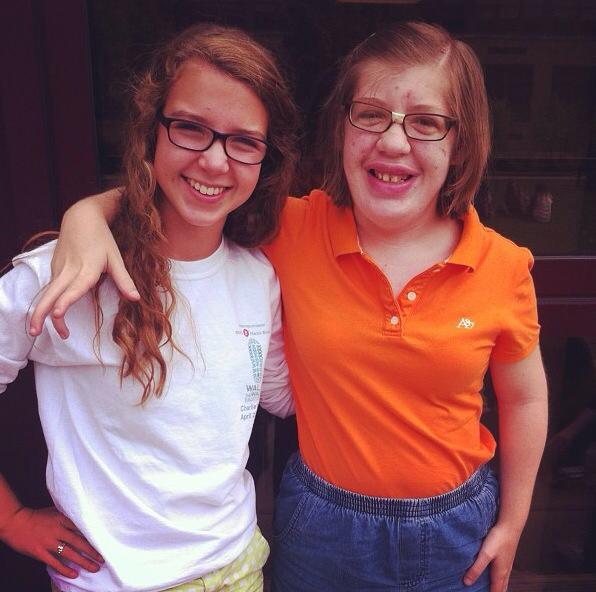 Senior Erin Kelly's face lit up as she embraced her friend Laila Drury, junior. Drury returned the hug and the girls shared this moment among friends after recalling numerous fun times they had experienced together.
The girls became friends thanks to Peer Buddies, a club at Central that pairs special needs students and other students together to create long lasting friendships such as Kelly's and Drury's, as well as providing a positive high school experience for all students at Central.
Drury's responsibilities as president of Peer Buddies includes making sure the eight other board members know what to do and giving out information at the club meetings, during which the student members plan events and fundraisers.
"We just make sure everyone knows what they need to do so that everyone in the club and everyone's parents in the club are informed," Drury said.
Last Friday, the peer buddies went to the Central football game together after a club picnic. Other activities include involvement in the homecoming parade, holiday parties, and, the most popular of the activities, bowling.
"We're all about including everyone and making sure that everyone has a great high school experience, so we really encourage social interactions between all different types of people," Drury said.
The club brings joy to both the special needs students and their peer buddies. "I just love seeing the joy on [our buddies'] faces. It makes you thankful for what you have," said Annemarie Tracey, junior.
For Drury, being president of Peer Buddies is a learning experience as well as a social experience. "I learn a lot from kids with mental disabilities," Drury said. "They aren't judgmental; they don't really have a position on stereotypes or anything, so it's really taught me to have an open mind about everything."
Recently, Peer Buddies considered joining an international version of the organization called Best Buddies. Drury and her fellow board members ultimately decided not to merge with the international program.
"I'm not saying anything against best buddies because it's a great organization. What they do is spectacular, but to get into their group, it is an application process, and people are paired up one-on-one, and we're not really about that," Drury said. "We're more about including everyone, and making sure everyone has the most normal high school experience that they can."
Peer Buddies has proven to be a very successful club at Central, and the number of people involved continues to increase each year. This is partially due to the fact that the group is no cut/no application, but the effects of the club on the buddies are undeniable.
"[My favorite part of being in Peer Buddies] is all of my friends," Kelly said. "They help me."
Leave a Comment