Mallek builds robotic arm and pursues robotics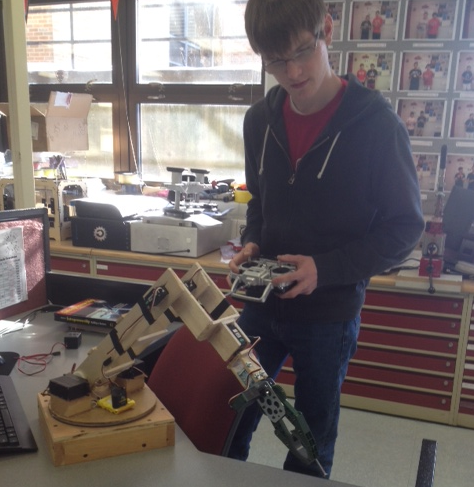 Andrew Mallek, senior, maneuvers the remote control of the 'robotic arm' he created to pick up a golf ball. Mallek built the arm with his brother during his sophomore year for a competitive event in Science Olympiad. The robotic arm eventually won the State Championship that year.
"Our objective was to design and build a functional robotic arm that was capable of picking up nails, pencils, pvc pipe and D batteries, then place them in designated goal boxes. After our first event, which we placed third, we immediately took our robot to the varsity level. It wasn't before long that we were scoring nearly perfect scores and beating any competition that stood in our way," Mallek said.
Mallek believes that the constant adjustments and improvements made on the arm made the difference for the state title.
"The difference between the first prototype to the end result is amazing. I look back at the entire experience as a great bonding my brother and I built and, not to mention, the many skills we picked up along the way. We learned that we worked very well together and any of our future ideas seem very possible," Mallek said.
Mallek has always been interested in technology, even if it hasn't necessarily been robotics. He is also a member of the Aviation Explorers Club and is taking flying lessons.
"Ever since I was young, I was one of those kids always curious about how things worked. I was also always interested in anything radio controlled and more specifically, airplanes," Mallek said.
Mallek and his brother have constructed a variety of contraptions, ranging from rockets and electric cars to aerial drone systems and multi-rotor drones since then. He hopes to start a business with his brother in developing sensor systems for multi-rotor drones.
Leave a Comment