Wilson rocks on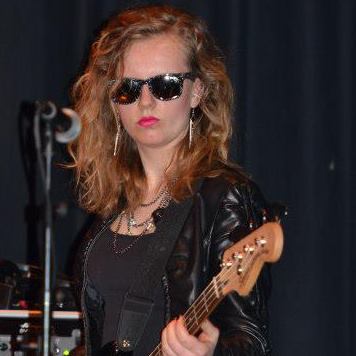 Amanda Wilson, junior, doesn't just play an instrument. She plays multiple, including the tambourine, triangle, snare drum, marimba, xylophone, and electric bass just to name a few.
Wilson, who started percussion in fifth grade, has been in the school band ever since then playing the drum set which includes typical percussion instruments. She started playing the electric bass last year.
Along with playing so many instruments, Wilson is a member of three bands outside of school.
"My band mates are some of my best friends and working with them has taught me to be patient with other people and how to communicate my ideas. I've probably learned more from working in a band than I have anywhere else," Wilson said.
While Wilson plays many different types of music including jazz and Latin, her favorite type of music to play is rock.
"When I play rock, I feel like I can do anything. I know this isn't necessarily true, but I feel like rock is the most impressive style to play as well," Wilson said.
With more than nine years of playing and the experience of being a part of three bands, Wilson is well on her way to pursuing music as a career. She hopes to study music in college and hopefully make a living off of it.
"I like being a musician because putting in effort gets direct results. If you don't practice, you won't get any better. If you practice, you will get better," Wilson said.
When asked what her favorite part of being a musician is, Wilson said, "With music, you have to work for it, and your skill is a direct result of what you have done. I have worked for my ability, and if I stop practicing, I will lose that ability, and it will be nobody's fault but mine."
Leave a Comment