Roglich asks professional basketball player, Jimmy Butler, to prom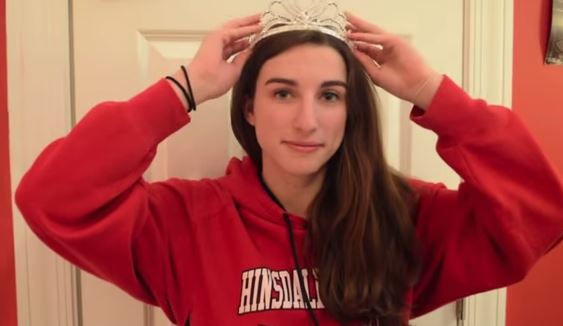 There were no flowers or posters or costumes involved in senior Maddie Roglich's proposal plans. Instead there were video cameras and basketballs, as Roglich posted a video to YouTube asking basketball player Jimmy Butler to prom.
"I saw a girl from Miami asked Dwayne Wade last year and he showed up! Jimmy Butler is my favorite Bulls player so I was like, what the heck, why not give it a shot," Roglich said.
So far Butler has not personally responded, but his brother has tweeted the video and said he would pass along the information of the prom date and time to Butler.
"He also said that he and Jimmy had both seen the video but couldn't say yes or no yet because Jimmy has to wait for the playoff schedule to come out," Roglich said.
Asking famous people to prom has become a more common occurrence in recent years. Celebrities from Taylor Swift to Taylor Laughter have all been asked to prom. Roglich believes that social media has spurred this trend. Her video is a testament to this fact as it has a few thousand views and has been widely shared.
"Social media has a lot of power, so a good way to do it would be to post it on YouTube and have people tweet it at whomever you're asking," Roglich said.
Making the video itself was nothing too new for Roglich, and with the help of a couple friends it came together fairly easily.
"The video was a bit all over the place. I've been making fun videos like that for a while, for things like peoples' birthdays and such, so it didn't take long. I combined some pictures and videos I recorded," Roglich said.
Despite the possibility of being let down, Roglich believes that taking the chance to ask an admired celebrity to prom is worth the risk.
"If other people want to ask someone famous to prom, I would say don't be afraid to do something that may be a little outrageous like this. You never know what could happen," Roglich said.
Leave a Comment