Girls' swimming generates waves of excitement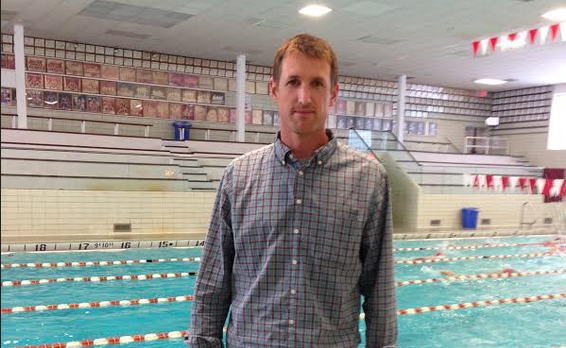 The distant smell of chlorine looms in the lunch hallway. The pool itself is filled with waves created by each swimmer's stroke. The coaches pace up and down the pool deck, making sure every swimmer has correct form. The training is not without difficulty, but the determination is undeniable.
These girls have been training since the late summer and are now training toward their last championship meet in the next month. Most of these girls have been swimming from a very young age and have known each other even before entering high school. Not only is the sport time consuming, it's also physically demanding.
"I was seven years old when I started swimming because my sister swam," said Margaret Kaufman, a senior who swims long distance freestyle and butterfly. "The hardness of swimming is literally a 10 out of 10. I have afternoon practices every day and morning practices almost every day."
Kaufman provided her insight on the team dynamic.
"The team itself is really close-knit," Kaufman said. "We really like working our hardest. The atmosphere is so positive, and we're like sisters."
Swimming meets are often intense, heated competitions. Swimmers expressed that they are thankful that the crowd cheers from the balcony, citing that it gives them encouragement during the strenuous meet.
"Before the meets, the team usually gets together and does cheers in order to get pumped up," said Brooke Leader, a senior who swims breaststroke. "We try to wear our spirit wear before each meet so that we promote team spirit. I think all the coaches are great too. They provide encouragement and motivation that is needed."
Coach Daniel Otahal shared his view on coaching and swimming as well.
"I started swimming competitively in high school and mostly did freestyle events," Otahal said. "Swimming is exhausting both mentally and physically. I admire how swimmers meet challenges day after day and rise to the occasion. My main belief as a coach is that kids need to have fun. They shouldn't feel forced to swim."
Many don't realize that sports are hard on coaches too.
"Fall is a really tough time for me," Otahal said. "Not only do I coach, but I have to teach and raise two kids at home. It's draining, but I really do enjoy coaching. It's definitely worth it."
The girls' swim team has high aspirations this year as the state meet approaches in November.
Leave a Comment