Surabhi speaks spectacularly at State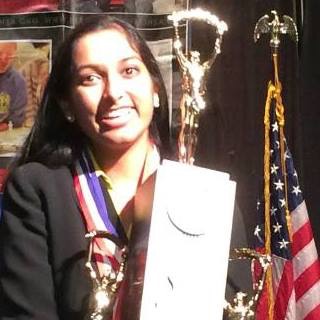 She is in a room alone, speaking into a microphone, while the audience and judges sit in the auditorium with speakers projecting the faceless girl's voice.
This is Divya Surabhi, senior, who won first place in the state for Radio Speaking as a part of Central's state-winning forensics team.
"There is no way I would have made it to state or won without the amazing teammates and coaches on Forensics who pushed me to expand my skills and worked with me late into the evenings," Surabhi said.
Mr. Christopher Wilbur, forensics coach, said, "After state I was in a bit of a state of shock—I was just amazed that we won.  I also felt so proud of our students—they worked so hard over the years to get to this point."
Sophomore year, Surabhi decided to try out Radio Speaking, which is different from other events since the audience only hears your voice – what you have prepared in a limited amount of time. "I wanted to challenge what public speaking meant to me…I wanted the challenge of thinking on my feet and only relying on my voice to carry the message of the broadcast," Surabhi said. She also does Informative Speaking, Original Oratory, and Impromptu Speaking.
Surabhi said, "Informative is a fun event because you can talk about absolutely anything you want to inform the audience about. Freshman year, I did an informative speech about female discrimination. Senior year, I composed an informative speech about laughter. I also like Oratory because it allows you to really think about a problem that we face and think of some creative solutions."
While Impromptu and Original Comedy are her favorites to watch, Radio and Informative are her favorite events to do.
As a freshman trying out, Surabhi said, "It was scary performing for the teammates and coaches during auditions. However, they were all so friendly. That helped me calm my nerves as the auditions went on."
Wilbur said, "My favorite thing about working with Divya is how humble she is."  Divya was a tournament champion fourteen times in this past season, and yet Wilbur said, "She is more excited to congratulate other people for their success and to offer thanks to her teammates and coaches for supporting her."
Surabhi now says her favorite thing about her four years of forensics experience is the friends she has made. "The first group of friends I made was on the Forensics team my freshman year. The coaches on the team have supported me and provide such a positive environment for everyone on the team†fa. I know I can talk to them about anything from my Oratory topic to the latest meal my mom made for dinner to college plans."
"Divya is kind, modest, witty, intelligent, full of integrity, and a true leader on our team.  She leads both by example and through her vocal support of her teammates.  She works very hard to make the people around her better," Wilbur said.
Leave a Comment