Sophomore competes her way onto varsity badminton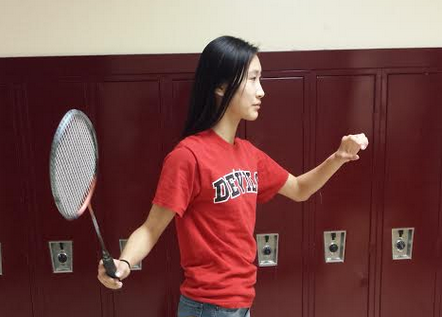 It was late March of 2014, and the ground was thawing with the promise of balmy days ahead. However, while most students were eagerly anticipating the freedom that was spring break, Angela Li, sophomore, faced her own anxiety.
After three days of grueling try-outs, Li belonged to a pool of contenders for the girls' varsity badminton team, who waited for the coaches to announce the team's roster. One by one, each girl was called into the coaches' office, where her season's future would be determined.
As the line in front of her continued to get smaller, Li was overcome with apprehension. Suddenly, the coaches called her name and gave her the news: she had made it onto the team. The most impressive part of all was that she had done so as a freshman.
Despite her four-year experience playing badminton outside of school for the Midwest Club, Li's spot on the varsity roster came as a surprise to her.
"I was kind of skeptical at first… because the decision was made almost half-way through the season," Li said.
However, to the rest of her teammates, the announcement was expected.
"I was definitely not surprised…because she trains hardcore for the sport," said Tina Guo, sophomore and badminton player. "Her playing style is really smooth, and her footwork is amazing."
The team quickly accepted Li as one of their own and came to appreciate her contributions throughout the season. Despite the age gap between the girls, the whole team got along very well.
"These were the girls that encouraged me to join the team in the first place," Li said. "They were really accepting. We also had pasta parties for team bonding, so we got to know each other pretty well."
As she begins her second season of varsity badminton this year, Li has become a key player for Central and mentors incoming freshmen. To the rest of her team, she is known affectionately as "The Unicorn."
"That is her nickname [because] she is a majestic unicorn when she plays," Guo said.
After winning conference for the first time since 1997 last year, Li looks forward to another successful season.
"I am confident [Li] and Sam McClary will go to the state tournament as a number one doubles team," said Ms. Katie Maley, varsity girls badminton coach.
As for her future with badminton, Li definitely sees herself playing throughout high school but is unsure whether she will continue to pursue the sport in college.
Despite all the hardships that it took to get there, Li looks forward to practices and games every day.
"I love the team, and I love the girls," Li said.
Leave a Comment