Shooting to the top
Run. Pass. Run again. Shoot and make the goal. The team is on the field too, cheering so loud that it echoes and you know they're proud of what you've done. The coaches on the sidelines are cheering too. Those are the qualities Hinsdale Central sophomore Taylor Reinhardt looks for in a sport, and the ones she recently found in lacrosse.
It is only her first year playing the game and she already finds herself playing on the A Team. Reinhardt used to play soccer but didn't want to play for Central's team, so she kept an eye out for another sport to play at school to replace it.
"I didn't want to do soccer with the school but I still wanted to play a spring sport, and I had friends on the team so I decided to try it out," Reinhardt said.
She had also heard of past stories where first time players had gone out for the team and got good fast, and she wanted to follow in their footsteps.
"She caught on to the game really quickly, and it definitely helps that she was involved with soccer before trying this game out," said Meghan Jones, sophomore teammate.
Reinhart enjoys the game of soccer, despite not wanting to play it with the school, so it was a positive realization to find that the two sports are very much alike.
"[Lacrosse] is really fun and similar [to soccer], in the sense that it's basically soccer but instead of feet you're using sticks and there's a different sized ball," Reinhardt said.
She doesn't think she could have done it on her own, though.
"The coaches were really good about letting me catch on considering it's my first year playing the game. It was kind of funny because I was a starting player and had no idea how to play the game," Reinhardt said.
Her teammates are encouraging as well. They recognize that she is only starting out, and that she is giving this game her all.
"Taylor is extremely competitive and always tries her best, even when it's just a drill and it's new to her," Jones said. "She is always working her hardest and that passionate energy is contagious to the other members of the team."
The team aspect is her favorite thing about the sport so far.
"The bond we have with each other is cool because the team is super close. I had done track before and that's a really individual sport, but the team aspect is what I really enjoy," Reinhardt said. "It's a really good environment."
Another thing she enjoys about the sport is the fact that there are college scouts who attend a lot of games.
"It's nice because there aren't too many people who play [lacrosse], so it's easier for college scouts to notice you. It would be pretty cool to get scoped out by one," Reinhardt said.
Reinhardt has put in a lot of time, inside and outside of regular scheduled practices with the team, in order to better her skills.
According to her teammates and coaches, it is quite the accomplishment to do what she has done, and be a starter on the A Team as a first year player.
The team has only had one game so far, and they won it. Reinhardt was a starting player, and she aspires to be a part of many more wins.
Leave a Comment
About the Contributor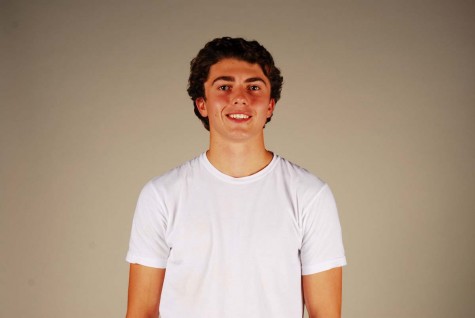 Andrew Bitautas, Writer
Andrew is an outdoors enthusiast and self-taught drummer. He picked up some sticks in first grade and hasn't stopped jamming, playing for the Shoobies,...