Clubs go digital
In the past few years, the popularity of social media has increased significantly at Hinsdale Central with the appearance of Twitter, Instagram, and Facebook accounts dedicated to the school's clubs and activities.
Every year, many clubs create Facebook groups as a convenient way to contact members. Among them is Key Club, with a Facebook group run by student Julia Rajan.
"We like to post when there are upcoming club meetings, just to remind people to come. We also use it to encourage people to volunteer in more opportunities," said Rajan, senior.
Central boasts more than 80 clubs, and Key Club is one of the biggest. Its leaders are constantly looking for simple ways to keep in touch with members, and Facebook has become their go-to solution.
"We only use Facebook. It's easy since we're able to contact these people in a large group," Rajan said.
Clubs are also using social media as a way to promote themselves. Radio Club members Alyson Chatterjee and Brandon Counts, juniors, made Twitter and Instagram accounts for their radio show The Eclectic Devil when it first started in spring of 2015.
"We thought it would be an easy way to connect with listeners," Chatterjee said. "They can request songs on our website or on Twitter."
Similar to Facebook, Twitter has been used by many Central students and faculty as an easy way to contact others about activities. Mr. Dan Jones, athletic director, made his Twitter account soon after he took over at Hinsdale Central four years ago, and students, teachers, and parents have followed him ever since.
"At the beginning I think it was mostly students, but now I get a lot of parents who say they follow me for the scores and what's going on," Jones said. "I still think it's the majority of students, but I do get a lot of parents, and a lot of community members, and alumni that follow what's going on because I hear from former students from the past couple years that are happy to hear, you know, that the gymnastics team, or the wrestling team, or the football team is doing well."
Jones' Twitter account is widely known throughout the school and has brought him closer to Red Devil Nation.
"I know that when I'm at events taking pictures and posting scores I always hear the crowd say, 'Take a picture and tweet it, Mr. Jones!' or 'We're following you, Mr. Jones!' You know, that type of thing. So I think that's pretty cool," Jones said.
Social media is no longer only somewhere to share information, pictures, and videos, but a platform for students and faculty to connect on another level, giving Red Devil Nation a whole new meaning.
Besides @RedDevilSpirit and @ThisIs HCHS, which accounts do students follow on social media?
Out of 100 students…
35 follow Red Devil Nation – @reddevilnation100
31 follow HCActivities – @HCHSActivities
27 follow Dan Jones – @RedDevilsAD
17 follow Mark Kolkman – @mkolkman
53 follow other accounts (Facebook groups, club accounts, etc.
Leave a Comment
About the Contributor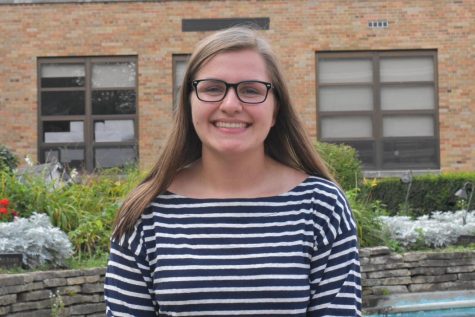 Hannah Anderson, Editor-in-Chief
Hannah Anderson is a senior whose second language is Internet. When she's not working on things for Devils' Advocate, she can usually be found blasting...