Speaking to Sebastian: sports lover
After the 2013-2014 NBA Regular Season, Kevin Durant was stepping onto a podium he never reached in his life. He was giving his speech for receiving the MVP (most valuable player) award. Durant had the season of a lifetime, leading the league in points per game and suddenly became a superstar. Durant was emotional, but definitely not more emotional than a young fan in the southern suburbs of Chicago.
Sebastian Lechuga, a lifelong dedicated sports fan, grew up as a big fan of Kevin Durant.
"Kevin Durant is my favorite, whenever I use him in [NBA 2k16] he is automatic. He is a great basketball player and a great role model," Lechuga said.
Although he is a giant fan of Kevin Durant, Lechuga had many other role models that he looked up to.
"[Athletes] interest me because I like to play sports and I like to use them as role models. Some of my current role models include Kevin Durant, Ray Lewis, and Lebron James," Lechuga said. "They show me that hard work actually does pay off and that injuries can come through hard work, but you have to work through them."
Although Lechuga is a big fan of sports players, he is a big fan of sports teams as well. Some of these teams include the Chicago Bulls, Chicago White Sox, and the Oklahoma City Thunder. He is a fan of these teams because either his favorite player plays on them, or because Chicago is his hometown.
"Derrick Rose is my favorite player on the Bulls, because the former MVP has been through some tough injuries but he always wants to fight and bounce back," Lechuga said.
Fellow classmate of Lechuga, Michael Brindley, has had various classes with him and also shares his love of sports.
"I first met him when my friend and I were talking about Durant, then Sebastian swooped into the conversation to agree with my views on him," Brindley said. "We both agree that Kevin Durant is the best player in the NBA, but also disagree on the Bills. Sebastian believes that Brian Scalabrine will make the Hall of Fame before the Bills make the Super Bowl, but I disagree."
Although Lechuga loves watching sports, he loves talking about them even more. His favorite show is ESPN First Take, which is a sports debate show. Lechuga's favorite sports analyst is in the show, Stephen A. Smith. Lechuga would someday want to become like them.
Lechuga's love and desire for sports is very apparent knowing that he loves playing sports video games. NBA 2k16 is his favorite knowing that he can play with some of his favorite players in the NBA and find out more about the player through their statistics. He also plays Madden 16 so he can experience realistic football situations and have fun.
Lechuga looks to continue cheering on his favorite sports teams during the upcoming seasons and to learning more and more about sports so that one day he might be a professional sports debater.
Leave a Comment
About the Contributor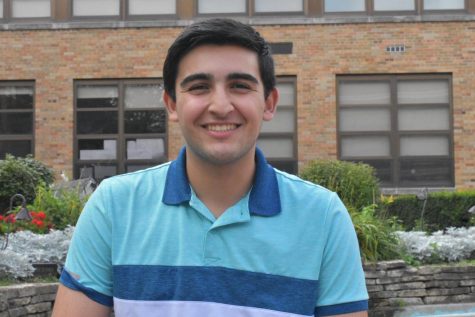 Ali Ardehali, Section Editor
Ali Ardehali, section editor for sports and A&E, is a senior who dedicates much of his time keeping up with the sports world. Despite recent struggles...