Lollapalooza Essentials
With summer comes all kinds of exciting activities for high schoolers from swimming, traveling, sleeping, and concerts. A particularly popular music festival for Hinsdale Central students is Lollapalooza, held annually in Grant Park at the end of July.
This year the festival is being held from July 28-31, including an extra day compared to the usual three days in honor of the event's 25th anniversary.
Since so many students are planning to attend this year, either for one day or all four, below is a list of essentials for the day straight from your classmates.
-Tickets:
Tickets went on sale in March and sold out within the day. However, many students find it helpful to buy resale closer to the concert if they didn't get their wristband straight from the venue.
"Last year I sold my extra ticket to another student the day of the concert," said junior Caroline Langan, "It's nice that it's such a popular and local event with high attendance."
Tickets that are being resold are often advertised on social media. It's important to buy from people you know and trust, to be sure that it's the real thing.
-Fanny pack
Fanny packs are one of the most secure ways to hold onto your belongings.
"It's so crowded, and I couldn't imagine having to carry a purse or backpack. This way you have only what's absolutely necessary, and are far less likely to have anything lost or stolen," said Lollapalooza veteran Olivia Carter.
-Water
This one may seem like common sense, but water really is key in staying hydrated, especially when it's hot and crowded. Lollapalooza supplies free water refill stations, and allows up to two bottles per person upon entry.
-Phone
Having a phone is important for all kinds of things: Taking pictures and videos, staying in contact with the people you went with, checking updates on weather, train schedules, etc.
"The top must-have for me is my phone at festivals, because it ensures that you won't get lost and that you'll have lots to post on Instagram," said Jane Kealy.
-Cute outfit
Lollapalooza and other music festivals like Coachella and Spring Awakening are well known for the hipster, Bohemian-esque outfits they inspire.
"It's really fun to plan your outfit. So far I've shopped at Urban Outfitters and Forever 21 looking for flowy shirts and high waisted shorts to get in the spirit," Kealy said.
Guys too are often seen in shorts and "bro tanks", or t-shirts that are sold on site.
"I like purchasing merchandise from concerts I go to, because it is a representation of all the memories I made and artists I heard," said freshman Kabir Sawlani.
-Plan
Lollapalooza recently released the schedule for each day, which includes who is performing when at each of their seven stages.
"By looking at the lineup and schedule ahead of time, it's much easier to get to where you want to be on time and have an idea of the crowds," Langan said, "It's sad when two people you want to see are playing at the same time, though. This year my hardest decision is between seeing J. Cole and Lana Del Rey."
-Weather appropriate gear
With the festival being held in Chicago, it's inevitable that the weather will be warm and unpredictable.
"If it's going to rain, I definitely recommend bringing a poncho, and wearing shoes that are comfortable but you'll never need to wear again. There will be a lot of mud," Carter said.
Whether this summer will be your first or tenth time at Lollapalooza, these necessities apply to everyone to have the most fun, safe, and memorable time at the festival. For more information and FAQs, visit here.
Leave a Comment
About the Contributor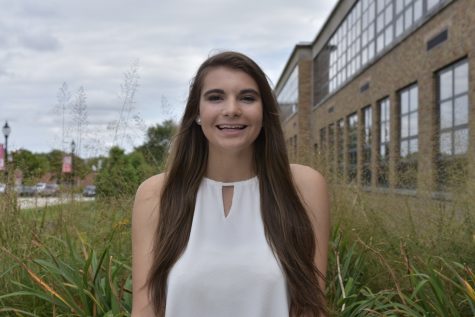 Shannon Ging, Sports Editor
Senior Shannon Ging loves writing for Devils' Advocate, especially if it is about sports. She spends most of her time cheerleading, whether it's for the...