New dress themes for basketball season builds excitement
As basketball season heats up with the boys' first home game on Dec. 2 and the girls' first game on Dec. 3, Chaz Zayed and Will DeAngelis, social chairs, have been busy planning for the home games.
After a successful football season that brought a big turnout, they are hoping to continue their success through the winter. Zayed and DeAngelis are rolling out new dress days and chants in the hopes of keeping game attendance high.
While talking to the social chairs, I was interested to see what they had planned for the upcoming season, as this would be my first season on Varsity Basketball.
"We've got the classic [themes] like Red Sea, whiteout, blackout and USA but we are also doing some new ones like superhero and tie-dye," DeAngelis said. "For the first time ever we're going to do a two-themed game where we want everyone to wear red for the first half and then switch to white for the second half."
My teammates and I were juiced up to see these new themes in action during the games, and to see the support from the student body helps the team get fired up.
"I'm really excited to see the themes at the game because when there [is one] for a game more people usually show up. It's also cool to see the school spirit, with everyone unified and wearing the same thing," said forward Danny Ahern, senior.
DeAngelis and Zayed are also planning senior dress days on Fridays during basketball season, a tradition that in past years ends when football season is over.
"This is gonna be the first time there's been official senior dress days for Red Devil Nation, as Will and I were not allowed to help plan the ones for football," Zayed said.
Seniors are excited to continue participating in dress days throughout the school year, and basketball season dress days also gives some the chance to dress up for the first time.
"Because of football I wasn't able to dress up for dress days like toga day or nerd day, so I'm all in for these new dress days because it will be the first time I will be able to dress up. I'm excited," said Alex Ritz, senior.
On Nov. 29 the social chairs released a hype video featuring the basketball team to get fans fired up. The video will be remembered for the team members exiting a private jet and walking into luxury cars.
"We wanted to go all out for this video and really get the student body excited. We had some connections that we used to get the plane and the cars. Will and I just got it done," Zayed said.
As the season progresses, Zayed and DeAngelis are interested to see how the student body responds to the differences between the football field and the basketball court.
"I'm most looking forward to the chants. Chaz and I are spending almost two hours per week making chants that are going to be new for each game to get into the other team's head. In regards to fans we want to try and get higher chant participation, without speakers it will be interesting to see how RDN is gonna adjust," DeAngelis said.
Both the girls and boys team's played in a Thanksgiving tournament to start off the season. The girls played in Hinsdale South's tournament, and the boys in the Hoops for Healing Tournament.
The boys' upcoming games can be found here, and the girls' here.
Leave a Comment
About the Contributor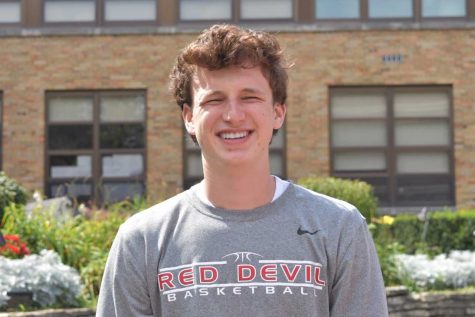 Everett Eck, Section Editor
Everett Eck is a senior who loves the sport of basketball. If he is not playing it, he is probably watching it. When he isn't playing basketball,...