Meet Paige Wilder
Paige Wilder, junior, is an active student at Central with a passion for film-making. This year, she has filmed and edited multiple hype videos for Red Devil Nation.
Wilder's videos have been attracting the attention of many, giving the students a lot more spirit. Her videos allow for students to re-experience the moments that happened at various sporting events. The excitement that the athletes and fans give her is what motivates her to make these hype videos.
[youtube https://www.youtube.com/watch?v=EHEhRDrNnKM]
"It's almost an escape for me because I can be so focused on what I'm making and forget about everything else. If there is one thing that keeps me making videos, it's all the feedback people give me," Wilder said.
The first thing Wilder does is gather the footage she needs. The next step is putting everything together to make a complete product.
"After filming, I pick a song. I have a playlist on Spotify where I put ideal songs for videos. I will usually go on a really long drive and listen to the playlist until I can visualize the video in in my head along with the song that I think fits best," Wilder said. "When I edit on my computer, I pick the clips with the most action. It takes me about two hours to finish a one minute video."
Wilder's hype videos captivate a vast amount of her Instagram followers, which include many of her peers from school.
"Paige's videos capture hype moments as well as chill moments. She ties these highlights together with a really good and unknown song. It makes you feel like you were a part of something big," said Kelly Nash, junior.
Wilder is constantly uploading new videos, making her viewers eager for more.
"I've been watching her videos from the beginning, and each new video brings out so much excitement and awe. They just keep getting better and better," said Shea Draddy, junior.
Since Wilder is so passionate about making videos, she is hoping it is something she will get to pursue in years to come. 
"I definitely want film-making to be my future. I would love to do it professionally. I want to study multimedia in college and continue as a film editor," Wilder said.
Other than making and editing videos, she enjoys being active and will take any chance to be outside.
"I love extreme sports. Meaning snowboarding, surfing, wakeboarding, longboarding and water skiing. I do that all at my lake house, which is actually how I started making videos," Wilder said. "I really love the outdoors and feel happiest when I'm in the mountains or at the lake." 
[youtube https://www.youtube.com/watch?v=Umn1d0VimpQ]
Not only does Wilder have many unique hobbies, but she is also family-oriented.
"I have two older sisters and an older brother. My siblings are my best friends. We go on tons of family trips. We go to California a lot to visit our relatives and travel to numerous countries. That's what I love most about my family, is how adventurous we are," Wilder said. 
In the meantime, Wilder plans to attend more student events to showcase the talents of the various sports and clubs at the school.
Leave a Comment
About the Contributor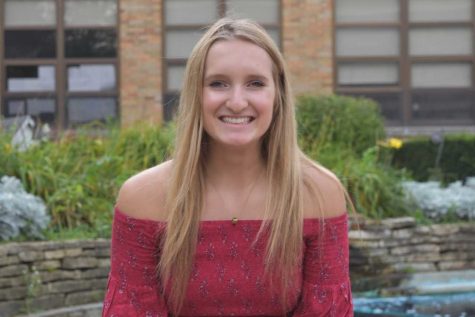 Sydney Seda, Managing Editor
Sydney Seda is a senior who loves to have a good time. You can catch her watching multiple episodes of Grey's Anatomy or volunteering at Hinsdale Hospital....