Houseparty app on the rise
The culture of cell phones and social media has taken over the life of an average teen, while some apps like Instagram and Twitter have been here to stay for years, others like Facebook are in decline. The big thing at the moment is an application called Houseparty.
Teenagers today are always looking for the next big thing; games and social media that seemingly everyone has after one or two people "discover" it.
Houseparty has made its way to the top 20 free mobile apps list nationally, and a large number of downloads can be attributed to Central students and alumni. It is similar to Facetime, except that up to eight people can be included at a time. This is a feature many users have been craving with the use of the Facetime app since its release on the iPhone 4 in 2010.
"It's more entertaining than Facetime," said Anna Hyland, junior. "It brings people together that don't really know each other."
The point Hyland makes is also a major selling point of Houseparty. The app suggests friends based on one's contact list, and users are able to see all of their conversations their friends are having. With just one mutual friend in a room, users may join it and meet whoever else they are talking to.
"You can meet new people and have a good time," said Finn Voorhees, senior.
The intent of many students in downloading the app was to talk to students in college. Maggie Moeller, senior, downloaded the app back in August, before it became a phenomenon.
"You can talk with anyone at any time, and making a big group helps to keep in touch," Moeller said.
However, the app has some drawbacks.
"It ruins your life," Voorhees said.
Many students have complained of this, citing the time they spend on it and the frequency of notifications. Each time a friends opens the app, it alerts all their friends.
"It's very addicting and takes up so much time," Moeller said. "The notifications get a little excessive."
For the time being, the app has a strong following of Central students and those across the country.
"I think it became so popular because people are conformists, and when they hear about how fun it is more and more people get it," Hyland said. "If you're bored it's a good thing to do, but now my grades are suffering because of it."
You can download Houseparty for free on both the App Store and Google Play. Another way to 'facetime' if you do not have an iPhone is explained here for Android users.
Leave a Comment
About the Contributor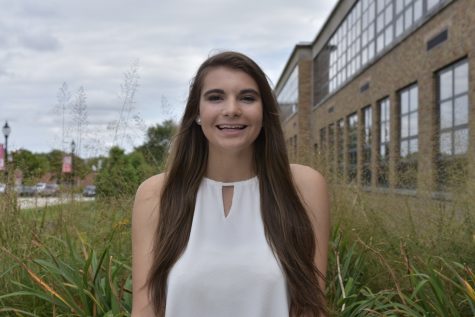 Shannon Ging, Sports Editor
Senior Shannon Ging loves writing for Devils' Advocate, especially if it is about sports. She spends most of her time cheerleading, whether it's for the...