Holiday gift ideas for every personality
With final exams and the holidays quickly approaching, the month of December seems to always fly by. If you're in need of some inspiration, keep these ideas in mind when browsing for that perfect present.
For the makeup enthusiast
For anyone who loves makeup, new beauty products are always fun to test out. Many brands have holiday gift sets available during this season of giving. These sets usually come with several different products that are often sample-size, allowing your recipient to try out a variety of things at once.
One trending brand in particular, Glossier, released their newest kit for the holidays called the Black Tie Set. What's nice about this one is that it comes boxed with four different products that include an eyeliner, lip gloss, nail polish and customer favorite, the Haloscope highlighter.
"I love everything I've tried from Glossier and the products I'm going to be using the most for the holidays are the Haloscope highlighter and the Generation G lipsticks," said Kelsey Dadmunk, a representative for the brand.
Highlighters in general seem to have become the it-product for this year. They provide a glowy and luminous effect to any look and make a great gift as they're a practical product that all will love to add to their collection.
"Right now in the color world at Sephora, our best-selling products would be highlighters [like] the Anastasia Glow Kit and Makeup Forever illuminators," said Sophia Gandara, Sephora makeup artist.
Another kit for the holidays is Smashbox's new Try It Kit which consists of four different primers. Known for their makeup primers, this kit allows the recipient to test each one out as they all come packaged in convenient travel sizes.
For the gym goer
When it comes to working out, athletic purchases are essential. There are many different companies and brands that offer a wide range of products which are ideal for those trips to the gym.
An easy gift that would last a long time and is useful while working out is a bkr bottle. This company sells glass water bottles that have silicone sleeves over them, inspired by contemporary culture and fine art. Their brand has made the bottles in a variety of colors.
Another creative gift idea would be workout pieces. The trending online brand Fabletics has a wide range of clothing for yoga, running and working out at the gym. The styles and patterns are perfect for women who like shopping at other stores like Dicks Sporting Goods or Lululemon. On the other hand, there is also another online site, FL2, which is a Fabletics for men. Even though there isn't as much of a variety on the men's website, the clothing is comfortable and functional.
For your dad
Whether it would be accessories or toiletries, these two ideas are excellent for all dads who like to express some style and get tasks done.
Watches are ideal for dads who prefer to know the time throughout the day or want to make a fashion statement. A great business that offers some of the freshest looking designs today are MVMT Watches. All of their products include a minimalistic style from high-quality materials, giving off a simple look.
Another idea that would put a smile on any dads face is a new shaving kit. Razor maintenance is a chore that men would pay to give up for the sake of time. This is where The Dollar Shave Club comes in handy. This grooming staple promotes a satisfying collection of products ranging from high-quality razors to shaving formulas. Aside from purchasing these products, one can also get a one month trial of any razor for just one dollar. After the first month is up, the company will continue to ship razor cartridges for as little as $3 per month.
For your mom
From decorative goods for the home or even a trendy new addition to her closet, these ideas are perfect for all moms who enjoy adding a touch of style to everything in their lives.
For the mom who is an interior designer at heart, giving the gift of a stylish piece of room decor is always a nice idea. Something subtle yet intricate like this prism jewelry tray is both a fashionable yet functional piece of art used to hold all of her favorite jewelry in a special place.
Another trendy item that mom is sure to love is a candle from Capri Blue, a best-selling brand that can be found at local shop, Vintage Charm, as well as online.
These candles are handmade and are known for their long lasting scents. The brand has many variations and types to choose from however, their "signature jar" style is a modern, popular pick.
For your boyfriend
Like the makeup enthusiast, there are plenty of gift sets available for guys that consist of a variety of products. Giving the gift of a signature fragrance is always a great option and the Polo Ralph Lauren collection is an iconic, long-time favorite of the fashion industry.
Courtesy of Macy's
The World of Polo gift set features four of the men's fragrances in trial-size samplers allowing your recipient to find their favorite in this set of classics.
"As a girl, you want your guy smelling nice and looking good," said Sarah Steil, junior.
Another idea that's always makes for a perfect gift is clothing. This year, American Eagle has proven to be the destination for in style menswear that incorporates the season's timely trends into each garment.
For the Winter, these mock neck style sweaters for men have been frequently seen in magazine spreads and clothing ads making for a comfortable yet fashion-forward piece.
If you're still unsure about what to buy in terms of clothing, American Eagle even has a shop-by-personality option on their site under the gifts category to give you even more inspiration and guidance while you shop.
For your girlfriend
When considering what to give your girlfriend, it's always best to choose gifts that she will adore. This can vary from jewelry, makeup, clothing items and many more.
A meaningful idea would be picking out a beautiful piece of jewelry. A specific online site called Stargaze Jewelry sells necklaces, rings, bracelets and chokers that are revolved around the beauty of the sky.
Another enjoyable present that your significant other is the Jolly Hollydays bath set from Lush Cosmetics. This company has all fresh handmade cosmetics, most of them being 100% natural. It is always nice to have a collection of bath products when wanting to kick back and relax in the tub.
Happy Holidays from Devils' Advocate!
Leave a Comment
About the Contributor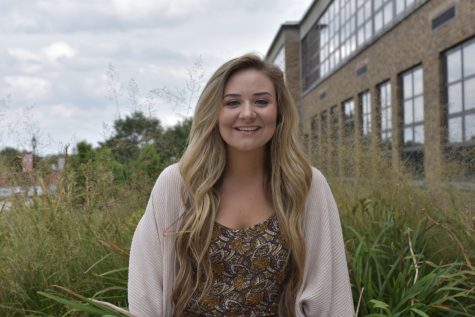 Holly Swasko, Writer
Known for her love of rose gold and cardigans, Holly Swasko, senior, will rarely be seen without at least one of them. When she isn't posing for an "OOTD"...