A preview of the 2017 Variety Show
The annual Hinsdale Central Variety Show will take place on Feb. 1 and Feb. 2 beginning at 7:00 p.m. The show will feature a wide variety of acts including singers, bands and dancers. Devils' Advocate asked a couple of the acts to preview their performance and the works that goes into it.
What is your act?
Blackjack (band): "Stairway to Heaven" by Led Zeppelin.
The Pecan Sandys (band): "Have a Cigar" by Pink Floyd.
How did you decide on your act?
B: We wanted to play a song that would show off everyone's skills, and a Led Zeppelin song was perfect for this. "Stairway to Heaven" is an easy pick because it's so iconic and is one of the few songs that could top "Free Bird," the song we played last year.
TPS: We had to pick a song that fit our personnel/instruments, but we also wanted a song that wasn't a "greatest hits" or "crowd pleaser" and is still a great song. It's also a fitting song because most of us are seniors going on to college and it's a song about the future and success.
What do you do to prepare/practice?
B: Since "Stairway to Heaven" is such a long song with several transitions we have been practicing it in parts based on when different instruments come in. The drums and bass come in at about four minutes, so that's where we start a lot of the time. Then to practice the beginning a lot just Robert (the singer), Dean (the keyboard player), and myself (the guitarist) would get together so the rest of the band wouldn't have to sit around while we worked on that part. Then we focus altogether on the different transitions, and always start and end practice with a full run through of the song.
TPS: We just get together occasionally and jam on it.
Leave a Comment
About the Contributor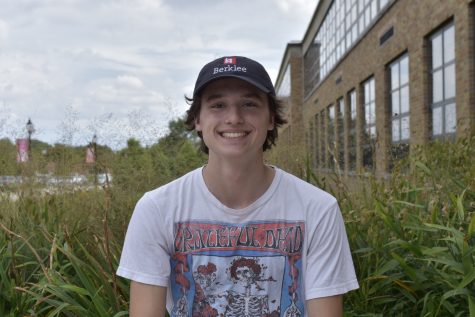 Emmett Grundberg, Writer
When he's not chasing the headiest Phish jams, he's probably at Toyota Park watching the Chicago Fire find new and creative ways to lose soccer games....