Variety show showcases talents
As the auditorium seats fill with seniors in beach day attire, underclassmen, and supportive family and friends, the performers crowd the green room under the main stage. Each act preparing for its shining moment, the chance to perform what they've been practicing for weeks. They wait for their cue to captivate the audience in the talent they possess.
On Feb. 2, the school opened its doors for its annual Variety Show, a showcase of various talents ranging from singing and dancing, to yodeling. The Variety Show has become a tradition through the ages, giving students a chance to focus the spotlight on their rarely noticed talents. Unlike any other performance related activity sponsored by the school, the Variety Show opens the opportunity for students to have sole control of the stage for the few minutes they're up there.
Preparations for the Variety Show began just before winter break. Selective auditions were held to ensure that the best acts get the chance to showcase their ability. Run by Variety Show sponsors, Mrs. Karen Russo and Mr. Robert Russo, the auditions took place after school, encouraging students to bring a sample CD and perform. From those that auditioned, 18 acts received a spot on the show.
"We came into Mr. Russo's room and played him one of our songs," said Harrison Helm, senior and drummer of the Pecan Sandys. "They notified us later on about getting a spot."
After being selected, performers began preparations of their own. Extensive practices outside of school were required to ensure perfection. Whether it be choreographing a dance, working out harmonies, or writing a song, their efforts clearly reflected the work they displayed.
The Variety Show was hosted by three seniors: Social Chairs, Will DeAngelis and Chaz Zayed, as well as Jake Youngman, who also auditioned for the parts. The three seniors worked toward developing a swift and smooth MC routine, including both real-life acting bits, as well as filming footage that could captivate the audience between acts.
"The three of us have been working together all year," Youngman said. "We decided to come out and lead the show. We worked toward filming the videos over winter break and throughout the first few weeks of school, basing them on things that past students have done."
The show came together the two days before it's final opening. Dress rehearsals were held by on Monday, Jan. 31 and Tuesday, Feb. 1.
We rehearsed a few times beforehand," Helm said. "The band is a hodgepodge of members that have been permutated throughout it's lifetime, so it was just working on getting everyone synchronized."
The performers all had different takes on what they wanted to present. Many chose the musical path, performing in bands, as solos, or acapella. Some even brought their own music to the table, presenting both their singing abilities, as well as their potential for songwriting.
"We wanted to play a song that showed off everyone's skills," said Colton Giammanco, senior and drummer of the band Black-Jack. "Stairway to Heaven seemed perfect."
Feb. 2 was also the Variety Show's Senior Night, where seniors attended in beach theme to support their fellow peers. In the past ten years, it has become a tradition for seniors to do this, and rush the stage upon the last act. The tradition began when seniors felt the need to express their emotion about entering into their last semester with the people they've grown up with. It reflects a bonding experience with the pleasure of a little background music by some of the grade's most talented.
Leave a Comment
About the Writer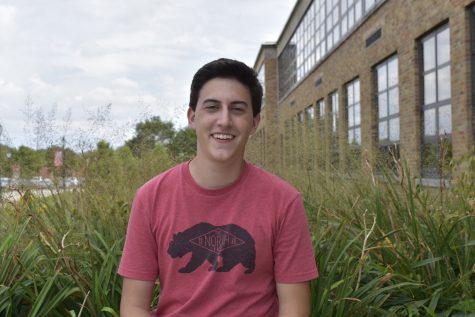 Zeljko Kospic, Writer
Zeljko Kospic, senior writer for Devils' Advocate, loves to write, socialize, and eat. He is a self-taught guitarist, with a passion for all music genres....