Students respond to Trump's travel ban
On Friday, Jan. 27, President Donald Trump signed an executive order in Washington, D.C. that limits the amount of refugees entering the United States. The order calls for a higher level of vetting, suspension of the admission of Syrian refugees indefinitely, and a ban on travel to the United States for citizens of seven majority-Muslim countries. However, the executive order is currently prohibited from taking effect since the Ninth District Court of Appeals agreed to block it on Thursday, Feb. 9.
Trump titled the order "Protection Of The Nation From Foreign Terrorist Entry Into The United States," and White House officials have clarified that it will affect travel from Iran, Iraq, Syria, Sudan, Libya, Yemen and Somalia.
"Honestly, this ban may mean that I can't go home this summer. My family all lives in Syria, and I visit every summer, but this year it doesn't look so good. Although I have dual citizenship, the risk isn't worth it," said Masa Najjar, sophomore. "I couldn't be more confused and disappointed to what [the executive order] has come to. Islam is a very peaceful religion that many misunderstand. It's saddening to see that some are in favor of this ban."
Najjar is one of many Muslim students, and this executive order affects her personally. Although others haven't felt threatened by it, they have still spoken out against its implementation.
"[If I could speak to President Trump], I would tell him to get rid of the ban, especially on refugees because most of them are innocent," said Zerghania Berki, junior. "You can't blame a whole race or religion based on a few idiots that are terrorists."
Mr. Daniel Otahal's Global Issues class has been discussing the impact of this executive order. The class will have a more in-depth unit on Syria later in the semester, but the current actions by the Trump administration have encouraged discussion before then.
"I think the challenge of Global Issues is to try to make sure we create enough space so that different views are represented. I try to look at both sides of the argument and then let students debate with each other and develop their own opinions," Mr. Otahal said. "It's a great example of why Global Issues is so important because we live in a world that is far closer today when it comes to issues like this than a generation or two ago. So, how do you interact on an intellectual level with policies that may affect people around you, or families that are right here in Hinsdale? And that's on both sides: families that have been affected on the national security side of the equation and families that have been affected by changes in immigration policy."
When it was first signed, people across the nation dubbed the order the "Muslim ban." This led to a debate back and forth, causing President Trump to tweet this:
Everybody is arguing whether or not it is a BAN. Call it what you want, it is about keeping bad people (with bad intentions) out of country!

— Donald J. Trump (@realDonaldTrump) February 1, 2017
The technicalities of the order's nickname are the least of the debates, though. The main focus is on whether or not the order is right, morally and constitutionally. The order has sparked protests across the country, especially at airports in major cities like New York City, Los Angeles, and Chicago.
On Friday, Feb. 3, a Seattle-based federal judge issued a decision that blocked many of the central aspects of the order. Previously-issued visas are acceptable for entry again, and airlines were told it was fine to board passengers who had been prohibited from travel for several days because of the order. The Trump administration appealed, and on Thursday, Feb. 9, the 9th Circuit Court of Appeals upheld the decision to suspend the executive order from taking effect. In response, President Trump tweeted:
SEE YOU IN COURT, THE SECURITY OF OUR NATION IS AT STAKE!

— Donald J. Trump (@realDonaldTrump) February 9, 2017
As of now, the White House is looking for alternate ways to reinstate the order. White House senior policy adviser Stephen Miller, who wrote the order, is debating appealing the 9th Circuit's decision, going to trial at the district level, writing a completely new executive order, or calling for an emergency ruling by the Supreme Court. Although it seems the executive order won't ever be enforced, it has confirmed President Trump's focus on American interests and American national security. His administration is striving for policies that prioritize domestic issues over international ones.
Leave a Comment
About the Contributor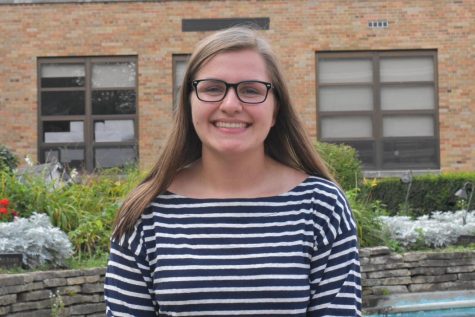 Hannah Anderson, Editor-in-Chief
Hannah Anderson is a senior whose second language is Internet. When she's not working on things for Devils' Advocate, she can usually be found blasting...