Goodbye for 40 days
On Wednesday, March 1, many students came to school wearing ashes on their foreheads, marking the beginning of Lent, a period of the year where Christians focus on living simply to build their faith. During this time, participants give up something that occupies a large part of their daily life.
Lent normally lasts around six weeks, and this year it will culminate on Saturday, April 15, the day before Easter. For some, this meant saying goodbye to certain foods in their quest to resist temptation.
"My dad and I decided to give up sweets together since it's easier when you have someone helping you," said Erin Otto, senior member of the varsity soccer team. "Soccer season has started, and I know that the way I eat affects how I play a lot, so I decided to give them up to try to have my last high school season be my best."
Others chose to give up specific activities until Easter to focus on the things they value the most.
"I'm giving up Xbox and games on my phone because I want to focus my free time on more important things like family, school, and sports," said Gavin Schwarz, sophomore.
To celebrate Lent, Julia Sant, junior, went one step beyond the normal traditions to spread her faith amongst her friends on social media. On Facebook, Sant shared some worship songs to her friends. However, she also has been celebrating her faith on another platform: Snapchat.
"I believe that during lent, you should give up one thing and add in something," Sant said. "Every day on Snapchat, I'm posting something that makes me happy so I can be reminded of how good God is."
From Reese's Peanut Butter Cups to Target, Sant has posted Snapchat stories every night explaining the details of something she enjoys in her life, in addition to giving up television. She will continue to post until the 40 days of Lent are over, so feel free to add her on Snapchat with the username "juliasint."
If you or anyone you know is struggling to stay away from whatever you gave up for Lent, the Upper Room Christian Club is available to discuss any issues. The club meets Mondays in room 259 before school, but there are also plenty of resources at churches within the community if you are unable to make it to a meeting.
Leave a Comment
About the Contributor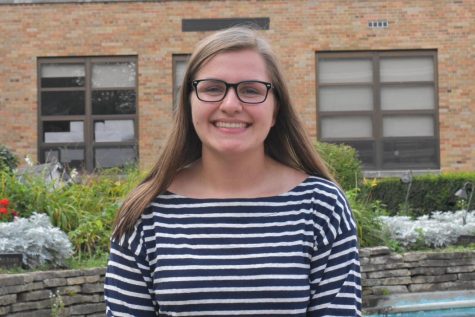 Hannah Anderson, Editor-in-Chief
Hannah Anderson is a senior whose second language is Internet. When she's not working on things for Devils' Advocate, she can usually be found blasting...