Get on iT: Behind the camera with Jay Campbell
If you had told Jay Campbell what was to come after he walked across the graduation stage on Dickinson Field in 2015, he probably wouldn't have believed you. In the two years since he left Central, the photographer has experienced more adventure than some do in their entire lives through his constant pursuit of "iT."
Throughout his life, Campbell was always interested in photography. In high school, he even was a photo editor for Devils' Advocate's print edition. However, he didn't truly consider sharing more of his work until one fateful night abroad. In the weeks following graduation, Campbell took off for Europe using all of the money he saved from working throughout his senior year. After two months of non-stop traveling, two weeks of which were alone, he had the idea to start an Instagram account separate from his personal page, dedicated solely to his passion of photography.
"I was in the midst of insomnia one night when I was in Europe. But it was like a great creative insomnia because I couldn't sleep, and there was something coming into my head, and I didn't know where it was coming from or what it was trying to say. But I realized, I've always taken pictures. I don't really do anything with them besides just have them on my computer," Campbell said. "When I was in Europe, it was so obvious to just throw them up on Instagram. At that time I wasn't thinking anything in terms of professional, but I was also thinking you have a platform, and you can do whatever you want when you have a platform. You build an audience, and you give yourself some type of freedom."
In that moment, @thejaycampbell was born. Since his first post on August 14, 2015, the self-taught photographer has amassed over 24 thousand followers with his incredible photos of landscapes and the captivating individuals around him. While this account also features photos of himself, there isn't any intentional balance.
"I really want just to capture my perspective. If I have pictures that I like of me, I'll definitely be posting them, but I want to capture the things that I'm passionate about in life. The biggest thing is people. It's people embracing and expressing themselves, diving into what they truly want. And when they're doing that, I think that's incredible," Campbell said. "There's no method to the madness. I just feel I have a story to tell in some way and get it out. However dysfunctional that comes out, it's okay."
The account started with photos taken by a Canon T2i, Campbell's first DSLR, or "big boy camera," as he described it to me (a non-photographer). Then, he received a Nikon D700, an "even bigger boy camera," from his dad. However, soon he sold it and its lenses for a Sony RX10, "less of a big boy camera," that he could easily fit into his bag while traveling.
After his trip to Europe, Campbell's account featured photos of more domestic adventures, from wild West Coast sunsets to abandoned graffiti-filled buildings hidden on the outskirts of Chicago. He also started a website called "J-Walking," where he featured pictures from his excursions throughout the country. Soon, it was time for him to head to college at California Polytechnic State University (Cal Poly) in California.
At Cal Poly, Campbell decided to major in philosophy before coming home for a social media marketing internship over the summer. However, throughout this time period, he could feel himself changing, becoming increasingly spiritual. He decided to ignore it, until he went on a study abroad experience in fall of 2016. Suddenly, the feelings Campbell was trying to suppress could no longer be contained.
"I really loved Cal Poly because it's like an adventure hub. There's the ocean, incredible surf 15 minutes away from school, plus you're embedded in the mountains. San Luis Obispo is just a very lively town with a lot of activity, a lot of cool art stuff, coffee shops, and whatnot," Campbell said. "Even though I had a great experience at San Luis Obispo and Cal Poly and made a very close group of friends, I felt kind of suffocated by school. I felt the need to break out and escape, and that was kind of me going to Buenos Aires. And while I was there, I kind of cut out all the connections from the external world that wasn't in Buenos Aires and really focused on myself. Not having the influences from home or external pressures really allowed me to see what kinds of things I really wanted to be doing. I was only really listening to artists and philosophers who inspired me, and they kind of became my best friends."
At the beginning of his study abroad trip, Campbell posted a video to Instagram, in which he claimed that he wanted to focus more on a creative project than the classes he was taking. Eventually, he made the decision to drop out of college completely.
"[I] really didn't feel like I was learning properly in the school system. I kind of have always looked at it as a loophole to get decent grades doing the least amount of work," Campbell said. "Education isn't something you kind of passively come by. It's something you claim. I didn't look at it like that for the majority of my life. As I've started to change my perspective, I realized school really isn't for me. I dropped out after the study abroad program and went traveling in Chile, Argentina, and Peru."
Campbell's parents helped him pay for the initial ticket to Buenos Aires, since it was for his study abroad program. However, once he was actually there, his adventures were fueled only by the money that he had saved from working during the school year and selling photographs. This wasn't a problem, though.
"I think people very much overestimate the amount of money you need to travel. You need a plane ticket, which is the biggest expense. But when I'm shoestring traveling, I'm traveling with a backpack at the least expensive places possible, and often staying with people. You find very nice people when you're on the road," Campbell said. "Traveling doesn't have to cost a fortune. If you're staying in fancy hotels or resorts, it will. No doubt. But as I've started traveling on my own, I've been kind of roughing it, so I can just kind of save up money and burn it all."
One of the people he stayed with was a shaman, an Amazonian spiritual healer, who gave him free food and shelter while Campbell worked as an apprentice for a month and a half. The shaman helped Campbell continue the spiritual journey that he initially ignored back in college.
"A lot of change happened in Buenos Aires and South America, to a point where I feel like somewhat unrecognizable," Campbell said. "That was kind of the biggest learning period of my life. It's hard for me to recognize myself looking backwards."
In South America, photography allowed Campbell to immerse himself in exotic cultures and capture the essence of unseen communities, forcing him to experience life in a way that he might not be if he wasn't always capturing the moment.
"The reason I really love photography is because it's kind of my reason to go out and explore the world. It's my reason to wake up early and see the sunrise, or go talk to that person over there because I think he's got an interesting energy or aura or does something cool," Campbell said. "Otherwise, I probably wouldn't go out of my way to make that experience happen."
He tells the story of his favorite experience from the trip, which may have never happened without his camera. When Campbell went to Puno, Peru, he unknowingly arrived the day of Fiesta de la Virgen de la Candelaria, a giant celebration with parades of hundreds of musicians and dancers. He was sitting with the dancers, when he spotted a trumpet player with puffed out cheeks and a wrinkled face that he knew he needed to capture. Campbell followed the trumpet player and the rest of the band through the streets of Puno, waiting for him to start playing so he could snap a picture. Suddenly, he was swept into an even larger and parade route.
"I walk probably three miles, with these people, shooting them the entire time. They start pulling me into the parade, giving me clothes to start dancing with," Campbell said, smiling. "I love to dance, so I was getting super weird with all of them and just making friends. It's just incredibly vibrant, super expressive, wild costumes."
At the end of the procession, Campbell prepared himself to part ways with his new friends as they went into an after party meant for parade members only. However, the dancers invited him inside, and the adventure continued.
"A live band starts playing, and everyone starts dancing. It's kind of like a traditional mellow dance that people are doing, just kind of grooving on their own. I'm kind of just flailing wildly in the midst of everyone. All of them were laughing just because the crazy gringo clearly doesn't belong but is definitely enjoying himself," Campbell said. "That was one of the most fun things that I've just been dragged into. But that's the kind of experience. Photography just kind of takes you down these spirals, and they captivate me."
Although Campbell didn't get the shot he wanted of the trumpet player, he married the moment and chased his passion for creativity, resulting in an incredible experience that he'll remember forever. While he's taking pictures, he looks for people who are truly living, just like he was in that moment.
"When I'm behind the lens and shooting, I'm not thinking about what I want to say. I just think about doing justice to the experience. If there's a group of people dancing or something, I want to look at the person who has got the expression and really is rocking it," Campbell said. "There's some people who will just kind of move through the movements systematically, and then there's others who wear it on their face, their heart on their sleeve. I'm trying the capture the essence of that person in particular when I'm working."
This philosophy is the driving force behind Campbell's latest project: "iT" (lowercase i, capital T). Since he first posted about the project in May 2016, "iT" has become a theme in many of the captions on Campbell's account, and he hopes to inspire others.
"For me, 'iT' is being in the pursuit of passion, without ego, without any kind of walls, [without] fearing any kind of judgement from other people or you judging others. When you're 'on iT,' you're pursuing what you love, and you're expressing yourself, whatever that means. If it's math, awesome. If it's art, surfing, whatever it is, just dive in," Campbell said. "That kind of pursuit is what inspires me, and I want to tell a story about 'iT.'"
Besides "iT," Campbell often uses his account to showcase his passion for writing as well. His captions can range from non-existent to stories or opinions that he conveys poetically. He's coming out with a blog very soon, which will give him a bigger template to express himself verbally. He also has considered vlogging on a platform like YouTube, but right now he wants to focus more on abstract work with Photoshop before he learns how to edit videos.
This week, Campbell is headed to California to connect artists with fashion brands through his photography. Although he doesn't have many plans, he's chasing his dream and documenting his journey.
"Right now, [I'm] dead broke. I have absolutely no money to my name. I've got like 300 dollars, so I can make it out to California in my car, but I'm staying with my sister until I get a job. I need to be circulating through the creative community and capturing the essence of these people who are fully pursuing their passion," Campbell said. "Art is really what inspires me, so I want to capture the artists. I want to do that through bringing them together with clothing brands as well and helping them get exposure by bringing two different audiences together. The best way to grow on social media is by merging audiences, and I want to bring artists to fashion brands and be a link between photography and writing."
Coming from a town like Hinsdale, it's very easy to feel pressured to go to college, get a degree, and move on from there. We constantly hear about students attending Ivy League schools and other accredited universities, and we feel the need to live up to that. To those who are considering paths other than college after graduation, Jay Campbell has some words of wisdom.
"A lot of people think I'm insane. One of the best pieces of advice I've ever heard that helped me is from a guy named by Casey Neistat. He said something like this. As you walk through life, you're going to get a thousand different perspectives on everything you want to do. Take them all in," Campbell said. "You have all these different people, who have walked different paths in life. You want to hear what they're different paths have to say and what their backgrounds are. Take in everyone's opinions, and then just throw away every one you don't like. Anything that doesn't resonate with you, toss it out. You are the creator of your own reality. Reality is subjective. It's going to be what you make it. Dive into what you love, and don't hold back."
Although many people do find college helpful, it isn't for everyone. However, as long as you are living your truth and pursuing your passion, nothing can stand in your way.
Leave a Comment
About the Contributor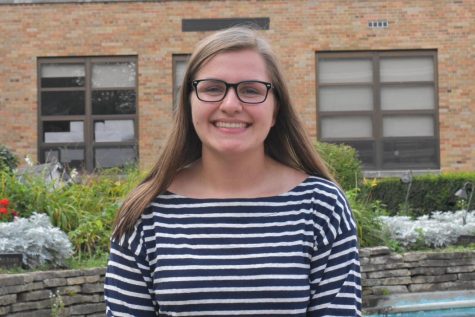 Hannah Anderson, Editor-in-Chief
Hannah Anderson is a senior whose second language is Internet. When she's not working on things for Devils' Advocate, she can usually be found blasting...