Soon-to-be retirees reminisce
This year, seven staff members are retiring from Central: Mr. Gary Gamen (physical education), Mr. Randy Gawlik (science), Mr. Pat Hurley (building and grounds), Mr. Kevin Koehler (guidance), Mr. Jess Krueger (art), Mrs. Janice MacLeod (library), and Mrs. Patricia Potokar (art). Normally exit interviews are conducted by the principal or the superintendent, but we decided to interview a few of the retirees ourselves.
1: How many years have you been working at Hinsdale Central?
Mrs. Potokar: I have been at Central for 20 years. I came from HMS, so I knew so many students that were already at the high school. It was a wonderful transition.
Mr. Krueger: [I've worked for] 23 years at Hinsdale Central High School.
Mrs. MacLeod: I have worked here for 15 years.
2: Favorite memory?
Mrs. Potokar: [I have] so many great memories. One of my funny memories was the day my puppy was delivered to school. I did not want her to be sedated and sent via air express. The breeder's sister lived in Hinsdale and was going to be visiting, so she brought the puppy with her. It was 6 p.m. and I was working with Solstice on the magazine. When I got the call, I went up to the front of school and there was my new puppy. I brought her down to lab 15 where we were working, and she ran around and played with the staff.
Mr. Krueger: I will miss my students. I have had so many outstanding people come through my classroom over the past 23 years.
Mrs. MacLeod: My favorite memory is of the first year we held a Library Game Day. Back then we had a student advisory group who thought up and ran the whole thing. We closed the library for the day and turned the lights off, so it was dark in here like an arcade. We had several different computer games loaded onto the South computers, as well as Guitar Hero in the South classroom and Wii in the North area, along with Twister in the Center area. We played anime movies in the Reading Lounge and set up board games on the tables. We had a drawing for prizes, and students were able to come in during their lunches and study halls. Teachers joined in, too! It was just fabulous and great fun!
3: What will you miss the most about Hinsdale Central?
Mrs. Potokar: Students. I call them "my kids."
Mr. Krueger: Favorite memory? First day and the last day and all the days in-between.
Mrs. MacLeod: I will miss getting to know the students who frequent the library and talking to them about our wonderful book collection. And of course, I will also miss the Wednesday morning cinnamon rolls in the cafeteria!
4: What are you looking forward to doing in your free time?
Mrs. Potokar: Spending time with my grandsons, Teddy (3 years old) and Charlie (6 months old). I will get to take care of them three days a week.
Mr. Krueger: Free time use? Time is not free. Make the most of every day. Never sit around today waiting for tomorrow. I plan on visiting friends and family. Traveling with my fly rod and camera. Seeing new places around the country and the world with my wife.
Mrs. MacLeod: I plan to spend more time with my new granddaughter, to volunteer for a couple of my favorite organizations, and travel with my husband. I also plan to read late into the night, which I can't do now or I sleep through my alarm.
5: How has Hinsdale Central changed from the time you started here to now?
Mrs. Potokar: Teachers dress more casual today. I used to wear suit. Student dress the same as they did 20 years ago: short tops, short shorts, Birkenstocks. Educational initiatives have not changed, but they have grown in numbers. At one time the Art Department had over 100 years of accumulated teaching experience. Solstice magazine is now printed in color. Digital Photography is now offered in the Photography curriculum.
Mr. Krueger: How has HC changed? Character counts has had an impact on the HC school community.
Mrs. MacLeod: The biggest change for me has been the library itself. When I first started here, the library went across the front of the second floor where the mailroom and several classrooms are now. The second floor hallway was totally blocked by the library. They built the current library in the middle of the courtyard, and then broke through the wall to make the library entrance we have now. It was quite an adventure, and I still have the red hard hat the construction foreman gave me when they were finished. And you don't want to know how long it took to move and shelve all those books! One thing that has not changed is the constant enthusiasm of the students, who bring their excitement and curiosity and fill my days with interesting questions. These are the reasons I became a librarian.
Congratulations to all of the staff members on their retirement!
Leave a Comment
About the Contributor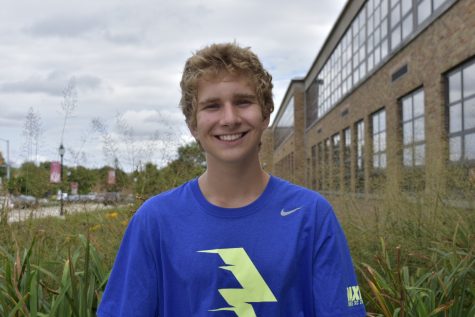 Joseph Miscimarra, Multimedia Editor
Joseph Miscimarra, multimedia editor for Devils' Advocate, enjoys eating absurd amounts of cereal to fuel his busy day. When he isn't volunteering for...