A new year with new faces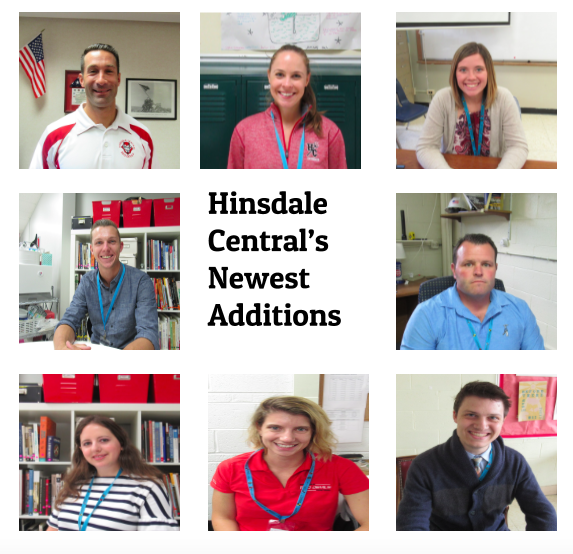 As the new school year begins, freshmen aren't the only ones adjusting to a new environment. This year, seven new staff members are joining various departments, along with a new assistant principal.
The new staff members include Ms. Melanie Kachinsky of the Math Department, Mr. Evan Haase and Ms. Lauren Schmidt of the Art Department, Mr. Will Ejzak of the English Department, Mr. Kevin Carver of Buildings and Grounds, Ms. Cayt Chittenden of Physical Education, Ms. Brigid Walsh of the Science Department, and Mr. Ryan Maita as the assistant principal.
The teachers and administrators come from a variety of backgrounds, spanning from teaching positions at various surrounding schools to OrangeTheory instructors and Chicago Police officers.
While starting a new job can often be stressful, many of the newest additions have been grateful for the support the staff has shown them.
"Everyone's falling over themselves to give you advice, materials, or answers just to make the transition as smooth and easy as possible," said Mr. Ejzak, who came to Central after teaching at Barrington High School.
Mr. Haase of the Art Department also found support in both students and their parents.
"The students saying, 'I know you're a new teacher and it's awesome to have you' and the parents after curriculum night [saying], 'we're here if you need anything within the community'… the support has been one of the biggest factors in acclimating," Mr. Haase said.
In many circumstances, the staff members are taking on new roles. Mr. Maita, taking the place of previous Assistant Principal Mr. John Bruesch, was formerly a dean of students at Glenbard West High School. Mr. Bruesch started this school year as the assistant superintendent for teaching & learning for Barrington District 220.
"As a dean you're a lot more heavily involved day to day with students… as the Assistant Principal of Operations you don't get to see as many students, it's more dealing with staff," Mr. Maita said.
To meet the other new faculty, view the welcome video shown above.
Leave a Comment