Meet the 2017 Homecoming Court
This year, 26 seniors were part of the homecoming court. The 13 king candidates included Tomas Baliutavicius, Alex Choi, Marshall Demirjian, Lucian DiPofi, Joel Guerra, Shayan Hussain, Charlie Johns, Joey Malcolm, Kevin Qin, Lonnell Smith Jr., John Wheeler, Grayson Willman, and Colin Yandel. The 13 queen candidates were Caroline Cheng, Colleen Claffy, Olivia Fix, Rama Hamad, Sarah Hughes, Lily Jones, Claire Lozier, Morgan McLaughlin, Maddie McMahon, Juliana Mejia, Kelly Nash, Molly Schwarz, and Sara Villanueva. We were able to interview the candidates and learn more about their hobbies, their interests, and why they are excited to be a part of this year's court.
1. What do you like to do in your free time?
Sarah Hughes: I like to hangout with my friends and family and watch TV shows like Friends and How I Met Your Mother.
Kelly Nash: I play lacrosse and cheer here at Central. I love to spend my time with JKB, Student Council, Peer Leadership, NHS, NSHS, NCL, Young Life, my dog, friends, and family.
Colin Yandel: In my free time, I'm out with friends, playing frisbee or spikeball or eating at Potbelly.
Charlie Johns: I enjoy coaching special education basketball in the winter and watching movies.
Lucian DiPofi: I like to play sports and relax in my free time.
Shayan Hussain: I like to play checkers with my cousin online. It's a good way to keep in touch. Also, I love long walks with my brother Mahi. We talk about life and love.
John Wheeler: I like to make rap songs for fun.
2. What was it like to be called down during the pep rally? How surprised were you?
Joey Malcolm: It was absolutely electric. I was so surprised to be chosen.
Grayson Willman: The surprise was kind of ruined when I spotted my parents sitting in the balcony, but it was really cool being part of it all.
Morgan McLaughlin: I was so unbelievably happy and shocked that I was called down during the pep rally. I was truly surprised, and my parents did a really good job of keeping it a secret. I just honestly felt really honored and happy.
Colleen Claffy: It was exciting. It felt like the longest walk ever to get to my spot just because everyone is watching your every move.
Sara Villanueva: I was completely surprised. I had absolutely no idea, so when they announced my name it was super surreal, and I felt so grateful to everyone who had voted for me.
Tomas Baliutavicius: It was really exciting to get called down. I had no idea I made it, and I was actually really surprised and genuinely happy.
Claire Lozier: I walked into the assembly and saw my mom in the upper stands, so I had an idea that my name would be called. It was still pretty nerve-wracking getting called down though.
3. What is the most exciting part of Homecoming week?
Caroline Cheng: Honestly, the most exciting part is the fact that everybody is excited about the whole week, from dress days to floats to the dance itself. I like dressing up and spending time with my friends, just having fun, dancing, and hanging out. It's just a good time. I love it.
Morgan McLaughlin: The most exciting part of homecoming week is going all-out on the dress days and preparing for my skit on Friday. I love when they play '80s music in the halls, and it's just a really positive atmosphere.
Alex Choi: The second pep rally where everyone on court does their skits. It's my favorite rally the whole year. It's really just fun to see all the skits because it's a competition that no one takes super seriously because we're all just there to have a good time. There's just a ton of good energy, and it's great to see the whole school together.
Claire Lozier: The most exciting part about homecoming week is preparing the skit for the whole school to see.
Olivia Fix: I think the most exciting thing is making the skit and getting excited for Friday's pep rally. I remember my first pep rally as a freshman and thought it was the coolest thing. Seeing all the seniors perform their skits honestly seemed like it was a movie, so I would have to say that being involved in that is the most exciting.
Colin Yandel: The most exciting part of homecoming week has got to be going all out for the dress days. It's pretty fun showing up to classes on '80s workout day in neon short-shorts and racquetball goggles. When you put on the sash it kind of lets you put your ego aside and just do whatever you want.
Charlie Johns: The most exciting part I think will be the parade. I can't wait to ride around in a limo with Kelly [Nash].
Lucian DiPofi: The most exciting part of homecoming week is the dress up days that lead to the assembly on Friday. It's fun seeing everyone dress up and have some good school spirit.
4. What is your favorite dress day of this week? Why?
Rama Hamad: My favorite dress day this week is pajama day because it's a classic and it's fun to come to school all decked out in PJs and a robe.
Alex Choi: It's definitely '80s workout day because it's the wildest yet oddly relevant dress day we have. Eighties stuff is making a comeback, and I feel like workout gear is just the pinnacle of ugly-but-cool clothing. I went thrift shopping and accidentally bought a women's petite neon workout jacket from the '80s, but it fits, so I'll just play it cool.
Lonnell Smith Jr: PJ day because I had a great onesie that was so comfortable.
Marshall Demirjian: The last day since court will be wearing the suits and dresses, and there's usually a really good turnout by the rest of the school on Friday.
Juliana Mejia: Definitely Tuesday, '80s workout day, because it's the craziest one and definitely highlights the '80s the most.
5. What do you think makes you stand out from other people on court?
Olivia Fix: I think the coolest part of this year's court is how we are all different. We each have different friends, hobbies, and sports that we get involved in, yet we have one thing in common and that's being excited about Red Devil Nation.
Kelly Nash: Everyone on court is similar in that they are very involved and really care about Hinsdale Central. An obvious difference about myself is that freshman year I unfortunately experienced the worst situation of losing my brother Ryan, who would've been a senior alongside me this year. It was so hard to return to school after that, however so many people here helped me through it – new friends and old. It has definitely shaped me in many ways. I have such an appreciation for the support that kids who struggle with physical and mental challenges receive here at Central. I feel so blessed to live in such a great community.
Lonnell Smith Jr: I'm more involved with sports than anything else in school. That's what I think sets me apart from everyone else on homecoming court, but I do enjoy having all of them around because they're a fun group.
Juliana Mejia: I think the main thing that makes me different from other court members is where I dedicate my time, like cheerleading, Young Life, choir, and theater.
John Wheeler: I think I'm the only one on court who used their own song in the skit, so that kind of sets me apart.
Joel Guerra: Actually, I think that the awesome thing about court is that everyone on court is super friendly and nice to everyone else, so even though we're all different in some ways, that really brings us all together.
6. When you were a freshman, did you ever see yourself being on homecoming court?
Sarah Hughes: No, I remember watching the skits freshman year and thinking that those people were so old. I wondered who came up with the skits because they were so clever.
Rama Hamad: Honestly, when I was a freshman I didn't think I'd be on court. I had always hoped and wished I would end up on court because it looked like so much fun, and now I am which is awesome.
Kelly Nash: As a freshman, I would've never expected to be on court. It was always a dream of mine to ride in the convertibles during the parade or perform skits at the pep rally, however I am so honored and excited to be a part of it this year.
Lily Jones: I actually never thought that I would be. I always looked at those people as being leaders of school. It's such an honor and has been a great experience.
Marshall Demirjian: At the time I was super unpopular, but Tomas [Baliutavicius] and I saw the social chairs and decided we were going to dedicate the next three years to working up the social ladder. We lost the election, but we still consider court a success.
Molly Schwarz: When I was a freshman, I didn't have even the slightest notion I'd be on court. I viewed the seniors almost as gods, and never thought I'd be at that level to have such a fun opportunity.
Joel Guerra: When I learned about it freshmen year, I hoped that by senior year I'd be the type of person that gets to be on court, but I never thought I'd actually be on it.
Grayson Willman: When I was a freshman it looked really cool, and I really hoped my friends and I would end up on court, but I wasn't really hopeful because there were just so many people I didn't know back then. I'm glad I've gotten to know and befriend so many people in the amazing class of 2018.
The winners of the homecoming court will be announced at the dance on Saturday, Sept. 16.
Leave a Comment
About the Contributors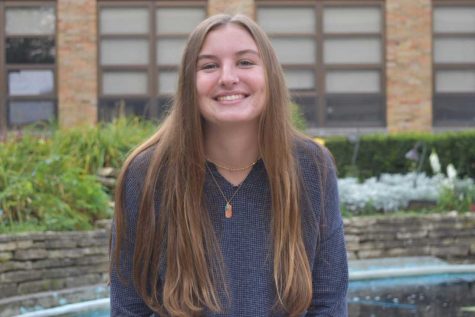 Samantha Moriarty, Writer
Samantha Moriarty is a junior who can most likely be found on the soccer field or on the couch. When she isn't waking up extremely early to fight for...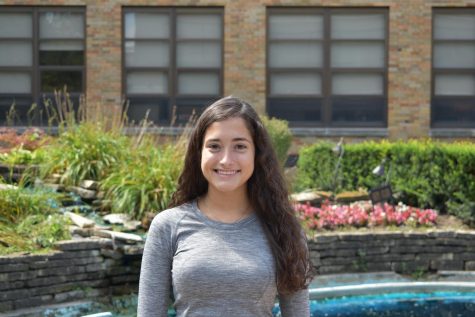 Michalea Halikias, Managing Editor
Michalea Halikias is a senior who can often be found shopping online, listening to music, or hanging out with her friends. She loves watching Master Chef,...