Students share favorite Halloween plans
Red and orange leaves fall to the ground, and a cool breeze moves through the air, as students exit school at 3 p.m. While most of these students are focused on the conclusion of first quarter on Friday, Oct. 13, many others are patiently awaiting the upcoming holiday Halloween.
In just over two short weeks, people will begin to celebrate "Halloweekend," as the weekend before Halloween is deemed when the holiday falls during the school week. With a rare occurrence of Friday the 13th this October, many students are starting the Halloween preparations early this year.
While Halloween is most well-known for the abundance of candy children receive as they walk throughout town trick-or-treating, high school students often have different plans for the spooky night.
"It's really fun having younger siblings and taking them out on Halloween," said Greta Kumskis, senior. "They're so excited to be dressed up and to get candy, and sometimes you get candy too."
Another popular student activity on the night of Halloween is handing out candy. Passing out treats to neighborhood kids is a student favorite because it allows high school students to interact with the younger kids on their street.
"I always pass out candy to trick-or-treaters on Halloween," said Anna Glowniak, junior. "It's such a fun thing to do with friends, especially because we love seeing the costumes the kids are wearing, especially kids we babysit."
Many students also enjoy celebrating the scarier side of Halloween the weekend before the holiday, which falls on a Tuesday this year.
"I like going to haunted houses around Halloween because there are always scary ones open during October, and it's a good way to get in the Halloween mood," said Timmy Lynch, freshman.
Other "Halloweekend" activities students enjoy involve going to costume parties, watching fall-themed movies and shows, baking fall treats, carving pumpkins with friends or family, and visiting local pumpkin patches.
Check out our infographic below for more information on student Halloween plans.
Leave a Comment
About the Writer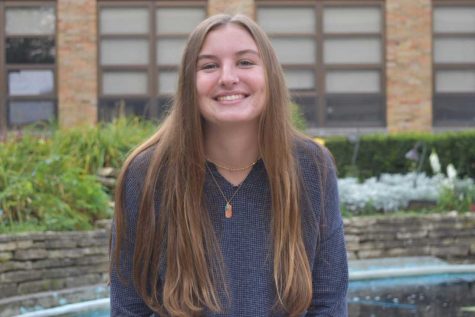 Samantha Moriarty, Writer
Samantha Moriarty is a junior who can most likely be found on the soccer field or on the couch. When she isn't waking up extremely early to fight for...