Students and faculty embrace the Hallowing spirit at school
Walking into school on the morning of Halloween, students can be found showing spirit in various ways. Some arrive decked-out in costumes and makeup, while others take a more subtle approach towards the spooky holiday by not dressing up.
Although many students prefer Halloween to be on a weekend, this year, it falls on a Tuesday. With the holiday being on a weekday, students are having to think of creative ways to get in the Halloween spirit while being at school.
"My favorite costume was when I dressed as Quorra from Tron," said Mrs. Wilda, a teacher in the Social Studies Department.
Last year, Halloween landed on a Monday, and with a majority of students not in costume, it was evident that most students preferred not to dress up.
"I've never dressed up in high school, but I used to wear costumes in middle school," said Ray Wohlever, junior.
Costumes are not as popular amongst students in high school because of the social stigma that sometimes surrounds them.
"I don't think students dress up in costumes to school because they're too worried that no other students will be dressed up," said Katie Helliwell, senior.
For those students who decide against wearing a costume to school, there are still many ways to feel festive. For example, students have the opportunity to decorate their locker with Halloween-themed decorations such as jack-o-lantern and ghost stickers, colored streamers, and more.
While not all students choose to go all out with their costumes at school, many find ways to show smaller signs of spirit, including wearing Halloween colors or other accessories like pumpkin socks.
Students also find other ways to get in the Halloween mood. Listening to spooky music in their free time and watching Halloween movies are among favorite activities for students.
"I always watch the Disney Halloween movie specials that are on in October," said Caroline Fryzel, sophomore. "They're really funny and a great way to get into the spirit of Halloween."
Students are not the only ones that find creative ways to get in the Halloween state of mind. There are also many teachers who choose to pass out small Halloween treats to students.
"I just bought pumpkin erasers for all my students," Mrs. Wilda said. "I also have Halloween-themed prizes, like pencils and erasers and other stuff like that, for correct answers and just for showing up that day."
Many teachers and staff members also decorate their classrooms and departments in subtle ways to enjoy the holiday. Around the school and inside many rooms, many festive and spooky decorations can be found. In the Art Department, hanging fabric is draped across the sign to look like cobwebs.
With Halloween quickly approaching, students and staff members are patiently awaiting and preparing in a variety ways for the popular holiday, taking all precautions to make sure Tuesday, Oct. 31 will be a spooky and spirited Halloween at Central.
Leave a Comment
About the Writers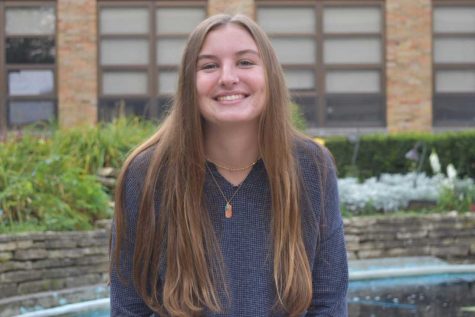 Samantha Moriarty, Writer
Samantha Moriarty is a junior who can most likely be found on the soccer field or on the couch. When she isn't waking up extremely early to fight for...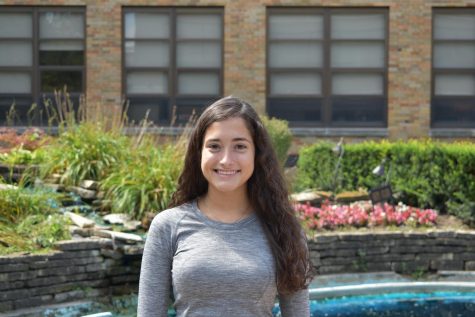 Michalea Halikias, Managing Editor
Michalea Halikias is a senior who can often be found shopping online, listening to music, or hanging out with her friends. She loves watching Master Chef,...