Conferences give students inspiration for the future
When senior Maddie Studnicka stepped onto Northwestern University's campus with her fellow journalism students two weeks ago, she was in awe of the number of opportunities available to her. The same feeling was shared by senior Caroline Hodakowski a few weeks earlier, when she and a small number of fellow students attended a conference regarding women's empowerment in the workplace.
Over the past month, a number of students were lucky enough to attend the Northwestern University High School Day of Journalism on Friday, Oct. 20, along with the Global Symposium for Female Empowerment on Friday, Sept. 22. The leadership field trips were intended to inspire and provoke thought within students.
At the Northwestern Conference, students were sent to seminars they had previously chosen. There they were able to listen to professors and engage with professionals working in the field of journalism.
"I went to the basic photography course and the media design course. I learned a lot about general composition of photos, and what makes a good journalistic photo and how is that different from normal photography," said Studnicka, senior co-editor-in-chief of El Diablo. "I saw some examples from a Medill [School of Journalism] professor which was really cool. It was nice to see a different perspective."
El Diablo sponsor Mrs. Palmer was particularly impressed with the relevance of the conference and how the professors were able to connect the field to today's social-media-driven society.
"The day after the conference I was able to talk with my sophomore [English 2] Honors students and my Honors [Seminar] students about things that I had learned and different takeaways I gained," Mrs. Palmer said.
Studnicka was also complimentary of how Northwestern's professors were able to keep the information being taught current and relatable to the many high schoolers attending the conference.
"It's nice to go to a conference about journalism because a lot of people think that journalism is a dying field, and they think that not a lot of people care about the news anymore," Studnicka said. "It's interesting to see how [journalism] is being developed in different media forms and how the professors take that into account."
At the Global Symposium for Female Empowerment Conference, students had the chance to listen to panels regarding women's rights, their roles in the workplace, and their roles in society.
"We were probably the youngest people at the conference, so it was very interesting to engage in conversation that we don't get to have everyday at school," said Hodakowski, senior co-edior-in-chief of El Diablo, regarding the group of Central students at the conference. "At the end of each session we were given the opportunity to ask questions to the panel."
Editor-in-Chief of Devils' Advocate print-edition, Minna Hassaballa also attended the Global Symposium for Female Empowerment. To Hassaballa, one of the highlights of the conference was hearing from women who are influential in world today, specifically in the Chicagoland area.
"It was really interesting that the majority of speakers and the attendants were women. It was also cool that [the conference speakers] were all local women who have either been fighting global issues or are on the forefront of these issues," said Hassaballa, senior.
The main takeaway for many attendees of the conference was the impact that women can have in the workplace as well as in society as a whole.
"Setting goals in a world where obstacles impede women from achieving their dreams everyday is one of the most important things [women] can do for their futures," Hodakowski said.
Overall, the conferences both offered students a sight into possible career paths, and inspired them to think more creatively and innovatively.
Leave a Comment
About the Contributor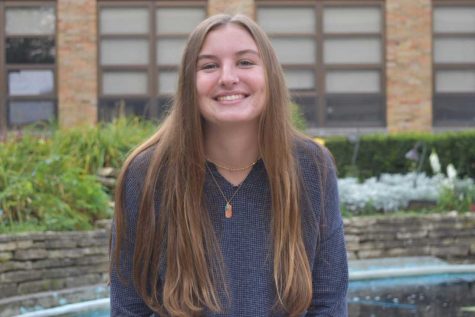 Samantha Moriarty, Writer
Samantha Moriarty is a junior who can most likely be found on the soccer field or on the couch. When she isn't waking up extremely early to fight for...