Consider the unknown
In the midst of course selections, many students are questioning the best classes to fill their schedules next school year. Although almost every student will end their high school experience having taken courses such as Biology, US History, and Geometry, as course selections continue, it's important to recognize the classes that aren't as well-known to students.
In many cases, these "hidden" classes are specialized to specific departments, such as the Business Department or the Technology Department, and are geared toward giving students experience for classes or majors they might be interested in at the college level.
"Business is the number one choice of college majors among Central students moving on to higher education," said Ms. Malleris, Business Department. "Taking business courses while at Central not only gives those students who will go on to major in business a head-start, our classes also offer very hands-on and real-world skills that can benefit students in developing skills that will help them become more college and career ready."
There are numerous business courses to choose from that students might be unaware of, ranging from simple introductory classes to advanced placement courses regarding specific subjects.
"I think the digital literacy classes offered in the Business Department are lesser known by the student body. These classes broaden your overall technology skills, and will benefit you directly in the projects and assignments you have in your other courses," Ms. Malleris said. "Tech support internship is also a course being offered for the first time next year. In this course students will be trained to troubleshoot Chromebook issues and will have an opportunity to pursue independent learning pathways."
But it is not only the Business Department that offers classes that aren't known as well to students. Among others, the Art Department also offers many unknown courses that students enjoy.
"I needed an art credit and was unsure of what to take, and I was talking about it with my counselor, and she suggested AP art history," said Katie Helliwell, senior. "She knew I loved history and thought it would be a good way for me to fulfill my credit."
The English Department is also known for its numerous electives relating to every aspect of the English language, including Acting, Speech, British Literature, Debate, and more.
"More 'non-actor' students should take acting," said Mr. Aurich, guidance counselor. "[It helps] to build confidence in public speaking, an ability to think quickly and improvise, and an ability to collaborate with a diverse group of people, and it's fun."
For a full look at other classes that aren't very well known, check out the program of studies.
Leave a Comment
About the Writer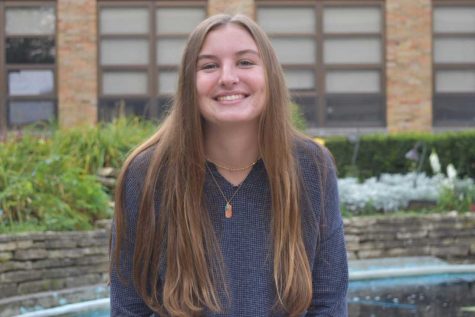 Samantha Moriarty, Writer
Samantha Moriarty is a junior who can most likely be found on the soccer field or on the couch. When she isn't waking up extremely early to fight for...