Architecture courses: Building a foundation for success
Designing floor plans, drawing models of houses, building wooden residential structures, and learning the fundamentals of architecture are all aspects of the Architecture & Design courses offered at school in the Technology Education Department. Although not many students know about these classes, they are encouraged to learn about them as an elective option for next year.
In light of course selection appointments being from Tuesday, Jan. 16 to Friday, Feb. 2, students must figure out which classes they want to take next year, including electives. Architecture is offered in four different year-long courses: architecture & design, architecture & design honors, advanced engineering & architectural modeling, and advanced engineering & architectural modeling honors.
The architecture & design courses are open to juniors and seniors, while the engineering & architectural modeling courses are open to seniors only. Each of the four courses require the prerequisite of pre-engineering, and the engineering & architectural modeling courses require that you take architecture & design as well.
"I think the school does a wonderful job in getting the fundamentals of residential architecture, which is a huge part of the big picture of architecture," said Mr. Matt Gawlik, architecture & design, pre-engineering, and photography teacher. "Every day we are working on residential architecture, meaning houses. During the first semester, the students design a house, and during second semester, they build a model of it."
Students enrolled in architecture courses learn the basics of the subject area, while also taking part in hands-on projects.
"We learned how to design our own floor plan, and now we're modeling our own houses," said Will Johnson, junior enrolled in architecture & design. "The class is really helpful for people who want to be architects in the future."
Architecture courses are offered in the Technology Education Department, and recommended not only just for students who believe they will be architects in the future.
"I would definitely recommend this class to other students because it opens a whole new door to things you wouldn't learn anywhere else in school," said Caitlin Chval, junior enrolled in architecture & design. "This class teaches you a lot, anywhere from the foundations of a house to the design of a house and even to building your own wooden miniature house in class."
Through the courses offered at school, students learn principles of architecture that serve to prepare them if they plan on going into an architecture job or major in the future.
"Every year Hinsdale Central has at least six or seven kids who go straight to an architecture school, and they all have drawing fundamentals and have had practice with models as opposed to many other schools that don't have as big and as good of programs as we have," Mr. Gawlik said. "We only have one class this year; usually there's one or two classes and probably about 20 to 40 kids that take architecture each year."
Although the class helps students to grasp the concept of architecture in depth, it can be described as laid back and fun as well.
"Mr. Gawlik makes the atmosphere of the class very casual and low-key," Chval said. "He always talks to us about current things happening and outside events and brings up the most random conversations, and that's something I love about this class."
To learn more about the architecture courses, visit the program of studies.
Leave a Comment
About the Writer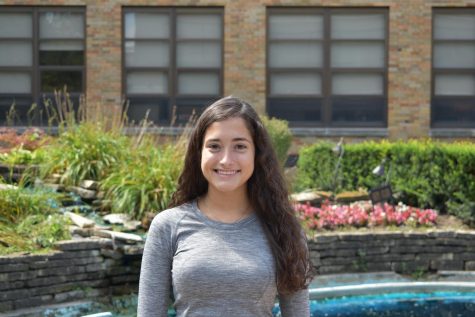 Michalea Halikias, Managing Editor
Michalea Halikias is a senior who can often be found shopping online, listening to music, or hanging out with her friends. She loves watching Master Chef,...