Valentine's Day gift guide
With Valentine's Day around the corner, it can be a pretty daunting task to choose a gift for that special someone or your best friend. It also can be tough as a high-schooler to find an appropriately-priced gift, so here are some choices in a variety of price ranges to help you out.
For girls:
Low: Chocolate
Chocolate is a classic gift for Valentine's Day and perfect for those who aren't willing or able to splurge too much for the holiday. They are often paired with flowers, which is a great pairing, and helpful if you know what kind of flowers they like.
Medium: Alex and Ani
If you want to get something nice, but you don't want to spend too much, Alex and Ani is a perfect choice. Alex and Ani has a large selection of jewelry, and they are best known for their bracelets that average a price of about $30 each. They have a Valentine's collection of bracelets and necklaces. There is an Alex and Ani store at the Oak Brook Mall with their full selection.
High: Swarovski
If you want to spend a bit more on your girl, the perfect brand to go for is Swarovski. Swarovski's items can range from $50 to $200, which is typically less pricey than a standard jewelry store. A popular brand for Valentine's gifts is Pandora, especially when it comes to their rings. However, I believe Swarovski's quality is much better, and they have more sparkle. Along with that, most girls prefer either silver, gold, or rose gold, and Pandora only comes in silver and rose gold. Swarovski has a large selection of rings, bracelets, necklaces, and earrings in all three metals. There is also a Swarovski store at Oak Brook Mall.
For guys:
Low: Food
We all know guys like food, and it's a perfect Valentine's gesture to get him his favorite meal and hang out. Pay attention to his favorite foods and bring it to his house for a simple yet thoughtful gift.
Medium: A day with him
The best thing to give is time together. You can get sports tickets, concert tickets, train tickets to the city, or anything you can think of to do on the weekend together. This gift can also be in a multitude of price ranges, depending on the amount that you're willing to spend. Additionally, it can also be very personalized to exactly what he likes.
High: Shoes
A new pair of shoes can be exciting for a lot of guys, making them the perfect gift for a shoe buff. You might want to ask one of his friends or family members what he will like and for his size, if you don't know already. If you're still unsure, just make sure you get them from a place that he likes to buy shoes, and he can return them and get something else he likes, if need be.
For friends:
Low: Singing Valentine
Our school has a fun system for Valentine's Day, where you pay $3 for someone to be serenaded by choir members and receive a lollipop from NHS. It's a super fun way to show a friend that you care. The money goes to NHS and to benefit inner-city music students.
Medium: A cliché gift
I know it's not really specific, but it's pretty easy to find something super cliché at Walgreens or Target, such as a stuffed bear, a heart box of chocolates, or a balloon. It's a super fun gift to get and display somewhere to remember your Valentine's gift.
High: A Valentine's basket
A basket full of goodies is one of the most fun things to receive. You can fill it with candy, pictures, and cute notes. If you want to get really fancy, you can give your basket a theme and have all the things in it match that.
No matter what you give or receive this Valentine's Day, just remember to enjoy and show appreciation for the one's in your life who make it special.
Leave a Comment
About the Contributor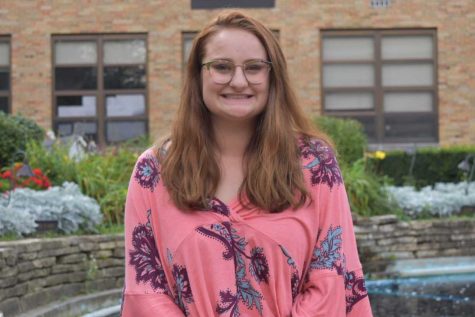 Lauren Wols, Writer
Lauren Wols is a junior who probably has a friend crush on you. If she's not writing for Devils' Advocate, she may be choreographing or doing other...