Love fills the school for Valentine's Day
As students entered school on Wednesday, Feb 14, their eyes were drawn to the hundreds of red hearts plastered along the school walls. The hearts, covered with names of every student and staff member, were taped throughout the hallways and stairwells. If they were unaware before entering school, it became clear to students that it was Valentine's Day.
Valentine's Day is one of the most celebrated holidays at school. Each year, students enjoy Singing Valentines, matchmaking tests, flower deliveries, and of course, finding their heart on the wall.
While all of the Valentine's Day celebrations are appreciated, Singing Valentines are most often the favorite among students of all grade levels. For just $3, students are able to buy a Singing Valentine for a friend and send it to them during a specific class period on Feb. 14. Singing groups are composed of choir members, who are able to choose groups and prepare acapella songs to perform on Valentine's Day.
"For me, the best part is seeing my friends and teachers throughout the day and performing for people that really enjoy listening to the music department," said Elisa Fridholm, junior choir member. "Other than the winter assembly, this is really the only time that the choir gets to perform for students. A lot of the teachers are so positive and ask us to sing multiple times, so it's a really nice feeling."
The freshmen in particular enjoyed Valentine's Day and found the celebrations pleasantly surprising throughout the day.
"As soon as I walked into school, I was surprised because I didn't expect to see all the red hearts with everyone's names on them," said Timmy Lynch, freshman. "I also didn't know about the Singing Valentines, so it was really funny and entertaining to see some of those in my classes."
While not all students or faculty members find Singing Valentines entertaining, most enjoy the captivating performances.
"We try to make sure that no maliciously-intended valentines are delivered, so there's no embarrassment. I'd say half the kids are a little reluctant to come up because they're embarrassed and half are really into it," Fridholm said. "We even had a teacher sing along with us this year which was funny."
In addition to Singing Valentines, students were also given the opportunity to fill out matchmaking tests about two weeks ago, and on Valentine's Day during lunch periods they could receive results with their top matches for $2.
This year, the Junior Class Board also sold carnations before school and during lunch periods. Students could buy the flowers for friends, and on Valentine's Day, board members delivered them to recipients.
"It's so exciting to see all the different Valentine's Day celebrations that are offered [at school]," said Lauren Witt, freshman. "Having students come into my classes to sing or bring flowers for their friends is a great change of pace and has really made Valentine's Day one of my favorite holidays that we celebrate at school."
Leave a Comment
About the Contributor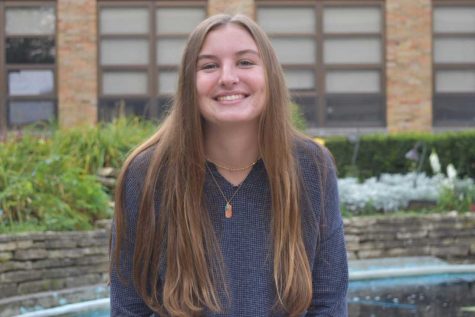 Samantha Moriarty, Writer
Samantha Moriarty is a junior who can most likely be found on the soccer field or on the couch. When she isn't waking up extremely early to fight for...