A student's guide to scholarships
As graduation day draws closer, many seniors are already picking their college of choice and preparing for the next four years of their lives. One of the most important factors seniors consider when applying to college and choosing where they'll go is scholarships.
There are four general types of scholarships available for students to consider when applying for and attending college: academic, also known as merit-based, given for outstanding test scores or grades; university, also known as need-based, given as a part of financial aid; demographic, centered towards minorities; and athletic.
Merit-based scholarships are often given out without students applying, but scholarships such as demographic scholarships almost always require an application.
"After getting in to the University of Iowa and the University of Colorado Boulder, I found out through letters sent a few weeks later that I got merit-based scholarships based off of GPA and ACT scores," said Greta Kumskis, senior. "For other schools, such as the University of Wisconsin-Madison, I've recently had to apply for scholarships."
While there are four main categories, students are encouraged to apply to multiple scholarships. There is no limit to how many scholarships an individual can apply to, and often the process is competitive, so students are more likely to receive a scholarship if they apply for multiple.
"I have a few scholarships I'm debating at this point," said Caroline Lyman, junior, verbally committed to play Division I soccer at the University of Missouri. "Right now I'm looking into the Mark Twain Nonresident Scholarship and also the Border State Scholarship. I'm still a junior, so I'm not too worried about making a decision yet."
While scholarships are not announced until an individual's senior year, it is often recommended that students search for and choose scholarships early. Deadlines are usually six months to a year before the scholarship is awarded, so it is important to do research on different types of scholarships and plan ahead.
"Ensuring scholarship deadlines are timely met, applications are thoroughly completed, and every financial opportunity is explored are just a few benefits of investigating scholarships at an early stage in the college selection process," said Mr. Marinier, guidance counselor.
Keeping track of deadlines and submitting scholarship applications prior to the due dates is something all students should keep in mind. Most importantly, students should remember to stay organized throughout the application process, similar to the process of applying to college.
"I think it really helps to be aware of what scholarships the schools you're applying to offer, and to take time to research them beforehand," Kumskis said. "Being prepared before getting into schools I applied to has made the whole process of applying for scholarships much easier."
While meeting with your counselor is a one way to learn more about scholarships, there is also more information online.
"The Naviance website is regularly updated with scholarship opportunities for students, typically beginning in January. When the Counseling Office is notified of an opportunity, it is posted in Naviance, and currently over fifty offerings are listed," Mr. Marinier said. "Other websites such as fastweb.com, petersons.com, collegeboard.org, and scholarships.com are also great resources to help students search for scholarships based on a particular profile."
Students can check out current scholarship opportunities through their Naviance accounts, which can be found in the counseling section of the school's website.
Leave a Comment
About the Contributor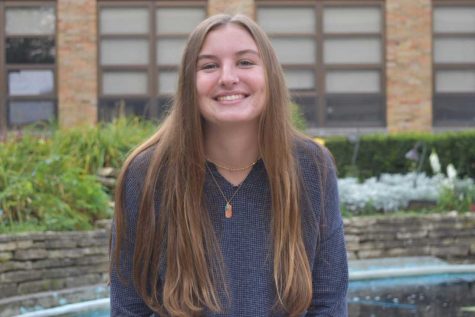 Samantha Moriarty, Writer
Samantha Moriarty is a junior who can most likely be found on the soccer field or on the couch. When she isn't waking up extremely early to fight for...