Young Olympians balance careers with teenage struggles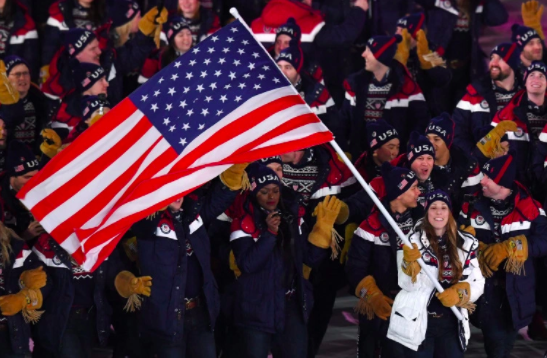 Every Olympics Games has its set of young Olympians trying to win the gold. In this year's 2018 Pyeongchang Winter Olympic Games, there are significantly successful Olympic athletes representing the United States. However, some of these athletes are not too far in age from many students, meaning they balance academics with their athletic careers. Here are a few young athletes to keep your eye on, even beyond their accomplishments in Pyeongchang.
Nathan Chen, 18, U.S., Figure Skater
In January 2018, Nathan Chen made history when he became the first male figure skater ever to land five quadruple jumps in a single performance. He attended and graduated from West High School in Salt Lake City. Competing in the 2018 Pyeongchang Winter Games, he insisted that the pressure of the Olympics had not gotten to him. But on the inside, there was a battle ensuing.
"I think that my very best performances are the times when I completely block everything out and it goes on auto drive — I don't think about anything," Chen told People Magazine.
Chloe Kim, 17, U.S., Snowboarder
Chloe Kim was the first woman to land back-to-back 1080s. In the 2018 Pyeongchang Winter Games, she was awarded the gold medal and became the youngest female athlete ever to win gold for Women's Halfpipe.
Kim began snowboarding at age four while on holiday in Mammoth Mountain, Calif. She entered her first contest at age six. Kim's inspiration for the sport has always been her father, and he was one of the many reasons why she fell in love with the sport. One of her biggest philosophies that she follows is that winning isn't everything.
"I don't snowboard to win everything. I do it because I love it. I do it because I have fun, and everyone else can think whatever they want. For me, it's all about fun and I enjoy it so much," Kim said, in an interview with USA Today.
Vincent Zhou, 17, U.S., Figure Skater
Zhou was the youngest athlete to represent Team USA in the Pyeongchang 2018 Winter Games. Zhou made history by becoming the first person to ever land a quadruple lutz during his short program at the Olympics. He also has an interesting academic past.
"Throughout my childhood, [my parents] educated me beyond the regular U.S. education system; in second grade, I was learning from sixth grade Singaporean math textbooks," Zhou said, in an interview with Cosmopolitan.
Vincent not only skipped a few grades while at the Capistrano Connections Academy, he even graduated ahead of his age group at 16. He shared with his fans the struggles and uncertainty that he was facing in an emotional Instagram post.
"I am young, ambitious, hungry, and motivated. But most importantly, I am still learning," Zhou said in the post. "I am learning how to balance my training. I am learning about the danger of ambition. I am learning what it takes to succeed."
Maame Biney, 18, U.S., Speedskater
Maame Biney was born in Accra, Ghana. At the age of five, she relocated to the U.S. to live with her father. Biney began figure skating when she was six years old in Northern Virginia but switched to speed skating on her coach's recommendation, due to the fact that she was too fast.
Biney is still in high school, and she is known for being happy all of the time. She aspires to be a chemical engineer, and it is always said that she can do chemistry all day.
"I am super honored to be able to be part of this, because I know that us African-American girls and women haven't been able to be in this situation before," Biney said, in an interview with the Huffington Post before the Pyeongchang Games. "I'm really honored to inspire other women, African-American or any other race, to get out there and do what you can and succeed."
Even at Hinsdale Central, there is a highly committed athlete in our midst. Natalie Bourand, senior, has been doing gymnastics since she was a little girl. Bourand, now 17, competes in rhythmic gymnastics. The highlight of her career is when she competed with the senior group at the 2017 World Championships.
"[Rhythmic gymnastics] is such a beautiful, yet under-credited sport that combines acrobatics with grace," Bourand said. "The best feeling about performing is the satisfaction of doing a clean routine after being nervous."
She later went on to say that balancing the pressures of both school and gymnastics was challenging.
"I missed about three weeks of school at a time, a few times per year. I think in total of junior year, I missed around 50 to 60 days of school to compete in Europe," Bourand said. "Teachers would exempt small assignments like tests and quizzes, but tests were hard to make up, and I would have to go in almost every day after I got back for extra help."
However, Bourand recently announced that she was no longer going to be a competitive gymnast. As she looks ahead to college, Bourand feels that balancing rhythmic gymnastics with school will become too difficult to manage.
"I'm not going to continue gymnastics in college, as I am focusing on becoming a doctor; it's impossible to devote your life to two tough things like gymnastics and pre-medicine in college," Bourand said.
Although she hasn't committed anywhere yet, Bourand was accepted into a few universities that she is still deciding between, including the University of Chicago.
To see some of the young Olympians listed above for a final time in Pyeongchang, tune in to the closing ceremony at 5 a.m. on Sunday, Feb. 25.
Leave a Comment
About the Contributor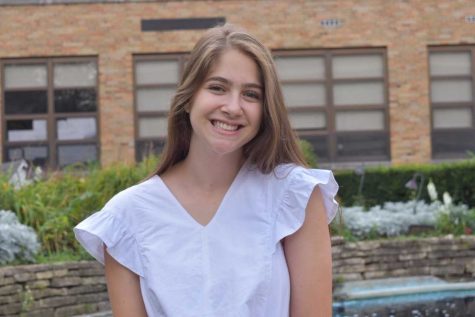 Thea Sankari, Section Editor
Thea Sankari is a senior whose sense of humor consists of nothing but dad jokes. You can catch her in the band room or binge-watching "The Office". She...